FOREX HIGH ACCURACY - TREND LINE PRO EA +I+O+S MT 4
Replenishment date: 04.10.2023
Manual issue of goods
You may need to contact the seller to receive the item. Carefully read the terms of delivery specified in the product description
Seller

Ask a Question
Report a violation
Description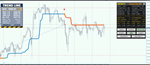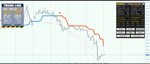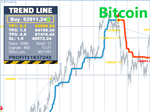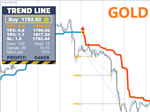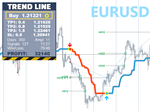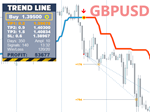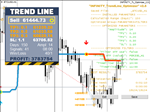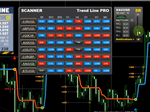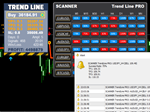 TREND LINE PRO EA + INDICATOR + OPTIMIZER + SCANNER

Trend Line Pro EA 1.4

The EA trades on Trend Line PRO signals
Orders are managed automatically. The EA has a recovery function that increases the order size if the previous trade was closed with a loss.
You can use 1 to 3 orders at the same time. The EA fully complies with the indicator signals and FIFO rules, does not use the grid function, which allows you to start trading with a minimum deposit of $100.
The EA has a mobile trading panel to manage auto trading functions and the ability to open trades manually. All trades opened manually by a trader will be closed with a profit using the DD Reduce Functions settings.
We can say that the task of the adviser is to bring any deal into profit, regardless of when and how it was opened.

Trend Line PRO Indicator 10.4

The Trend Line PRO indicator is an independent trading strategy.
Shows a trend change, a trade entry point, and automatically calculates three levels of Take Profit and Stop Loss protection.
Trend Line PRO is ideal for all Meta Trader tools: Currencies, Metals, Cryptocurrencies, Stocks and Indices.

Advantages of Trend Line PRO
Never redraws its signals
Ability to use as an independent strategy
It has three automatic levels Take Profit and Stop Loss.
The indicator has iCustom signal buffers, which allows you to create trading robots based on it
Has a notification function
The indicator has proven its effectiveness in trading on real accounts

How to set up and optimize the Trend Line PRO indicator:
I have the Amplitude parameter and the TP and SL levels are profit-oriented on the indicator panel
You can automatically optimize the indicator parameters using: Optimizer Utility

Trend Line Optimizer 2.5

This is an automatic parameter optimizer for the Trend Line PRO indicator.
Easily and quickly you will select the optimal parameters for your favorite Trend Line PRO indicator. Optimization takes only a few seconds.
The optimizer allows you to find the optimal parameters for each pair and period: Amplitude, TP1-TP3, StopLoss, as well as Time Filter and HTF Filter values ​​for a selected section of history (Days)

Scanner Trend Line PRO 1.2

Works with the Trend Line PRO indicator and a set of files created by the Optimizer Utility.
The scanner is designed to receive new signals of the Trend Line PRO indicator on all pairs and timeframes from M5 to MN1.
For the scanner to work, you must have an indicator. The main advantage of SCANNER Trend Line PRO is the ability to use an individual set file for each pair and timeframe.
You can automatically set, change and save the settings for each pair in the additional scanner window. You can also use ready-made set files developed and optimized by the special Trend Line Optimizer utility.
The scanner allows you to use only the settings you need, which speeds up its work.

Contents: 2 EXPERTS, 2 INDICATORS MT4.ex4 (unlocked), DLL: msimg32.dll.

Note. This product uses a custom DLL "msimg32.dll".
There are no viruses in this file, but Windows security is blocking it and you must give permission.
Some antiviruses can block it and mark it as a virus.
It's a false alarm and safe, this false alarm is triggered because it's a custom DLL that hasn't been verified by any publisher but needs to be unlocked.
Please only buy this product if you agree with this.

Powered by MetaTrader 4 for Windows.

Delivery to an email address in all countries of the world within 24 hours.
Additional Information
Money Back Guarantee.
If the product does not work, send me a message.
After checking the goods, if everything is confirmed.
I will refund the money within one day.