Men of War Assault Squad 2 Cold War (steam key)
Replenishment date: 16.03.2023
Manual issue of goods
You may need to contact the seller to receive the item. Carefully read the terms of delivery specified in the product description
Seller

Ask a Question
Report a violation
Description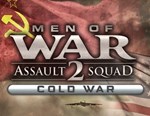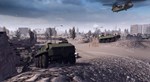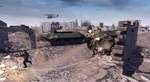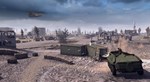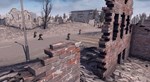 After the purchase, you will receive a KEY to activate the specified software product.
The purchase ID is 16 characters, use it to get the product code on the merchant site.
Release Date: September 12, 2019
Age rating: 12+
Developer: Digitalmindsoft
Publisher: 1C Entertainment
Localization: Russian (interface and subtitles)
Activation System: Steam
Region: Russia
Description:
The legendary strategy series "Behind Enemy Lines" has finally reached the era of the Cold War. You have to perform combat missions, commanding the troops of the United States or the USSR. Under your command will be huge armies, which include both regular units and special forces. Among other things, you will have at your disposal a large number of units of military equipment, such as support vehicles, light and heavy tanks, artillery mounts, attack helicopters and fighters sweeping everything in their path. City ruins, fortified borders, rural expanses, destroyed air bases, snow-covered villages - these are the battlefields that await you in this new game from the classic real-time strategy series, where the key to victory is your commanding skills and competent distribution of resources. For the first time in history series, a dynamic campaign generator will appear in the game. Behind Enemy Lines: Assault 2 - Cold War will present players with an almost infinite number of scenarios for the campaign, available in two modes - single and co-op!
Features: Two belligerents to choose from: the United States of America against the Soviet Union.
Dynamic campaign generator (single or multi-player) so no playthrough is the same. The generator creates random skirmishes and randomly changes the composition of the armies.
Network game via the Internet and local network.
"Conquest" mode: capture and hold key points by any means available.
Mode "Extermination": you must destroy the enemy forces or capture his base; also on the battlefield you can get valuable resources.
You will be able not only to command large army formations, but also to control any of the fighters individually thanks to the branded "Direct Control" mode.