⭐GTA 5 / GRAND THEFT AUTO V | SocialClub | Change Mail | ONLINE
Replenishment date: 01.10.2022
Content: text (218 symbols)
Seller

Ask a Question
Report a violation
Description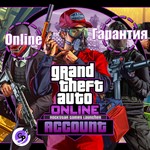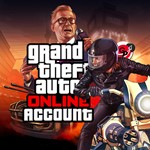 ⭐GRAND THEFT AUTO V / GTA 5 | SocialClub | CHANGE MAIL | ONLINE (GTA 5, GtaV)

◻️ Don't miss the opportunity to buy an account with Grand Theft Auto 5 while it's still on sale from Bro_Gamers!
◻️ Region Free, Change of all data, Online and Story modes, Lifetime Warranty!
☑️ Account with:
✔️ Change all data to yours, like mail, password, etc.
✔️ 100% Security Guaranteed (Lifetime)
✔️ Accounts are suitable for playing on RP servers
✔️ By random progress, accounts with huge amounts and levels in Online are possible
✔️ A full copy of the game, yes, the one that costs $ 60
✔️ Chance of having Red Dead Redemption 2 on your Account as a second game
✔️ Multiple data delivery to your mail
✔️ Online and story modes, no bans (online)
✔️ We work 24/7
✔️ Support is always happy to help you!
✔️ SOCIAL CLUB (Rockstar Games Launcher), This Is Not Epic Games
🎮 I will not be deceived ?!
If you are worried about the safety of your purchase - in vain!
For several years we have been delighting our customers with games at the best prices and with the best quality,
Over the years, we have sold several hundred thousand video games on licensed platforms and through our website.
We have no dissatisfied buyers! We will respond to any problem or feedback and solve them!
-------------------------------------------------- ------------------------------
Don't worry about product safety either!
All our products come with a lifetime warranty, in case of problems,
All you need is to contact us. We will promptly help you and you will be satisfied.
In case of problems, do not panic and do not leave negative feedback,
Contact us on the order page, we are always ready to help you ❤️
02.10.2022
I want my money back!!!
Everything works and corresponds to the description
02.10.2022
So far, bad. Permanently blocked Online. I will change my review as soon as they change the account
paid received data, while it works smoothly.
Replaced the acc, everything is fine
30.09.2022
Account not working
everything is fine, great seller, no need to contact him, got the account very fast.
I love honest and kind sellers
everything is fine with the account, I play with pleasure
I received a replacement, I didn't have to wait long for an answer, the goods are of high quality, all the data can be changed.
19.09.2022
It is written that I go online online banned
I'm waiting for the fluff!
15.09.2022
Unable to use mail, seller refuses to help
It's possible, if you opened the instructions that I throw you, and you write a review, well, you will be without a guarantee

No warranty
15.09.2022
It's a fucking thief he send me a banned account i have send the proof in video and he answer that a youtube video …!!!!! He doesn't even assume and he doesn't want to resend a new account. He think i want to steal his $2 account… what a tramp..
I ask you proofs for 2 weeks , and you dont want to send me proofs... No warranty for you.
14.09.2022
third account, It hasn´t even been a week since I bought it
And online permanent sanctions
So you banned it after a week?!
14.09.2022
crap, I took the account in a month, I was even too lazy to do another mail, it's right on the same one, there are proofs on the screen
13.09.2022
Online permanent sanctions

It's been a week since I bought it
So you banned it after a week...
The account is valid, the data was replaced without problems, I put a two-factor, I hope it will last a long time.
10.09.2022
After replacement
Second account, It hasn´t even been a week since I bought it
And online permanent sanctions
05.09.2022
I got an account with a ban online. The seller does not respond for more than a day.
Had a problem but seller helped me fix its good
Thank you. Everything works great
not cheating top for your money recommend
The seller immediately leaned back to my problem with the loss of my account and replaced the product, I can say one thing if you want to buy something, buy it from him!