FAR CRY 6 ULTIMATE EDITION🔴RU / MULTi🔴DLC LIFETIME
Replenishment date: 21.02.2022
Content: text (332 characters)
️Automatic issue of goods ✔️
Seller

Ask a Question
Report a violation
Seller discounts
for all goods
The goods are given a discount for regular customers.
If the total amount of purchases from a Gormustang seller is more than:
Description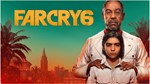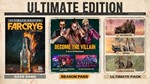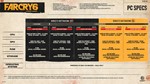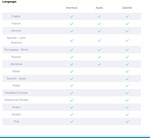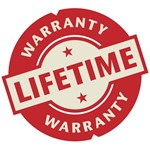 WE GIVE A LIFETIME WARRANTY
WE ALWAYS HAVE ACTIVATIONS
YOU CAN PLAY IMMEDIATELY AFTER INSTALLATION
THE GAME WILL BE INSTALLED WITHOUT OTHER PROGRAMS: YOU WILL RECEIVE A LOGIN AND PASSWORD
You buy a General UPLAY account with the game FAR CRY 6 ULTIMATE EDITION + ALL DLC ofline. ALL DLC means that you will receive all the add-ons for this game for free for 5 years
- You buy not only the game, but also good service
- After the purchase, you will be given a login and password from the UPLAY account in which the game has already been purchased, after installation it is possible to play only in offline mode.
- The account is unlimited, it is impossible to change the mail and password. (the account remains yours forever)
-Account is protected
🛠⚙️ FAILURE TO FOLLOW THE RULES MAY RESULT IN SERVICE REFUSAL.
-Be sure to read the "Frequently Asked Questions"
💡What is an offline walkthrough?
● Your passage will not be limited in time, you can complete the game 100% without the risk of losing your save!
● All subsequent updates will be available as soon as they are released, you will always have the opportunity to get the latest version of the game!
● You will not lose the ability to use your account and play your games!
● Offline may stop working when you update Windows, replace parts, or go online. However, it can be restored without any problems! More detailed instructions will be issued after purchase.
🔴IMPORTANT INFORMATION
- Any attempt to change data and transfer them to third parties is strictly prohibited.
- It is necessary to activate the game within 24 hours, if you have a slow Internet - inform the seller in advance.
- One activation - 1 PC!
- This product is not suitable for playing through cloud services.
- Game update and re-access for free once a month
⚠️ If the conditions are not met, we may refuse service without a refund.
🤩 Please leave a positive feedback after a successful purchase of the account!
Additional Information
PROS OF OFFLINE MODE
1. You don't have to wait for the game to be hacked (game data with Denuvo protection, which cannot be hacked for more than six months, you will not find them on torrents)
2. The cost of a shared account is several times cheaper than the price tag on Steam (10-20 times)
3. You can complete the game 100%
Language: see photo
1) Interface 2) Audio 3) Subtitles
Russian ✔ ✔ ✔
English ✔ ✔ ✔
French ✔ ✔ ✔
German ✔ ✔ ✔
Spanish - Latin America ✔ ✔ ✔
Portuguese - Brazil ✔ ✔ ✔
Japanese ✔ ✔ ✔
Italian ✔ - ✔
Spanish - Spain ✔ - ✔
Polish ✔ - ✔
Simplified Chinese ✔ - ✔
Traditional Chinese ✔ - ✔
Arabic ✔ - ✔
Korean ✔ - ✔
Thai ✔ - ✔
Product Description
Minimum system requirements (30 FPS)
Windows 10 operating system (64-bit versions only)
AMD Ryzen 3 1200 @ 3.GHz or Intel Core i5-4460 @ 3,1GHz
RAM 8 GB (dual channel mode)
AMD RX 460 (4GB) or NVIDIA GeForce GTX 960 (4GB)
DirectX DirectX 12
Free hard disk space 60 GB
Recommended system requirements (60 FPS)
Windows 10 operating system (64-bit versions only)
AMD Ryzen 5 3600X @ 3,8 GHz or Intel Core i7-7700 @ 3,6 GHz
RAM 16 GB (dual channel mode)
AMD RX Vega 64 (8GB) or NVIDIA GeForce GTX 1080 (8GB)
DirectX DirectX 12
Free hard disk space 60 GB
📋INSTALLATION
After the purchase
Offline Mode Instruction (Video Instruction
https://youtu.be/VUr34fo8PvE
)
1. Installing UBISOFT CONNECT client
2. Go to UPLAY with the login and passwords you received
4. Turn on the game before the game menu appears
5. Disable the game
6. In UBISOFT CONNECT, in the upper left corner, click the menu (icon-3 parallel lines), click the settings
7. in the NETWORK section, check the "Always run Ubisoft Connect offline"
8. In UBISOFT CONNECT, in the upper left corner, press the menu (icon-3 parallel lines), press go offline
9. Disable Internet UBISOFT CONNECT using farewell (Video Instruction
https://youtu.be/VUr34fo8PvE
)
10. Do not log out for the first 10 days
11. Turn on the game
12. Enjoy the game
The seller responds quickly. Satisfied with the product!!!
Super purchase did not regret buying from this seller. Everything is fine buy everything clearly without cheating
Everything works fine, the seller responds quickly and helps to solve the problem if it has arisen.
The best seller I have met on this site responds super quickly, will always help and solve the problem
Thanks for the help. Everything works.
Krasava seller
Responds quickly! Recommend)
Thank you !!!))) The seller is the best here !!!)))
the seller is supercool. best service. i recommend it
I bought a second toy from this seller, headlights edge 6.
I installed each of the games according to the seller's instructions on different accounts, both work offline, thank you very much to the seller for the promptness and detail
Everything is ok, everything works
I liked everything, quickly responds and helps in solving suddenly arisen problems))) I advise everyone to buy more than one game and everything works very well to this day!)
Everything is fine, everything works! The seller is great, always happy to help! I recommend the store !!! Buy, you won't regret it;)
I answered after a couple of days, the activation was done.
There were problems, but everything seemed to be resolved. promised support in the future, which I doubt very much. Let's see