Dead Cells Fatal Falls DLC (steam key)
Replenishment date: 18.03.2023
Manual issue of goods
You may need to contact the seller to receive the item. Carefully read the terms of delivery specified in the product description
Seller

Ask a Question
Report a violation
Description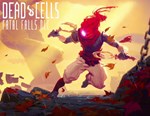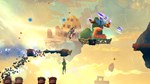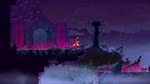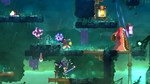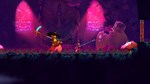 After the purchase, you will receive a KEY to activate the specified software product.
The purchase ID is 16 characters, use it to get the product code on the merchant site.
Attention! Requires Dead Cells to run.
Release date: January 26, 2021
Age rating: 16+
Developer: Evil Empire, Motion Twin
Publisher: Motion Twin
Localization: Completely in Russian
Activation System: Steam
Region:CIS, Russia
Description:
Get yourself a sharp and sometimes overprotective flying ally as you travel and fight across two new biomes that will lead to a new boss! Challenging levels will force you to rethink your approach to the game, and new content will diversify the style of passing and provide further support for the development of the game. Try not to get lost as you make your way along the sheer cliffs of the island. Explore floating shrines, infiltrate the lair of a criminal secret society and find the weak spots of the new boss. This is a new addition for those who are bored in the Stilted Village, Clock Tower, Time Keeper and parallel areas. Join forces with a powerful new ally whose strength is brutality. This bloodthirsty lady is crazy about you, so be gentle with her. Or not... One way or another, one cannot do without her help. There are two new levels and a boss fight, plus four and a half new enemies, an impressive arsenal of weapons and, of course, hidden tidbits of the island's history. Shattered Shrines. Here it will be difficult to take your eyes off the breathtaking views, but, alas, you will have to: after all, you also have to keep an eye on the crows while you jump from platform to platform, dodge snakes with spears and jump over terrible new traps over the bottomless abyss. Oh, and try not to wake up the terrifying axe-wielding statues. In general, a common thing. Immortal shores. Your vacation plans are again spoiled by enemies who never lie in their graves. This is especially unpleasant when you are climbing a slippery sheer cliff. And then there's the weather... The end of your hopes to lie on the beach. Not to mention creepy lantern-wielding wizards and their spade-wielding henchmen. There is no passage from them. Mausoleum. A new humanoid boss with a fascinating past. Fierce pattern-based combat and a great backdrop for the final battle. In addition to new areas, enemies, and a sword... yes, let's have a sword, a pet sword, yep... you'll need new killing tools, of course. What without this addition, right? We have added a bunch of new weapons to the game, and with some you will have to strain your brains: not everyone fights with frying pans. But once you figure it out, nothing will stop you.