CS GO PRIME inventory from 10 to 199 items + gift
Replenishment date: 26.03.2023
Content: text (143 characters)
️Automatic issue of goods ✔️
Seller

Ask a Question
Report a violation
Description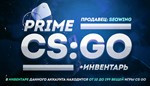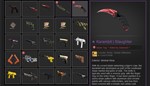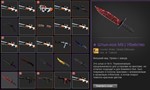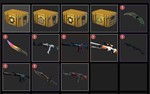 🔥After payment, you will receive data from the mail and from the Steam account where the game Counter-Strike Global Offensive (CS GO) Prime is activated. In the inventory of the game there are items from 10 to 199 pieces. You can play online. 🔥
Counter-Strike Global Offensive is a team-based tactical first-person shooter designed to deepen and improve the very team-based five-on-five game mechanics that everyone loved CS for. Counter-Strike: Global Offensive (CS: GO) includes both completely new maps, characters and weapons, as well as a mountain of "classic" things like de_dust, de_nuke and other iconic levels that have gone through a slight rebuild. A pile of original game modes, a leaderboard and indispensable lobbies for fighters are all included. For users with prime status, players with the same status are matched. They can also receive Prime-exclusive souvenirs, items, and weapon cases.
✅Other paid games are very often found on the account, inventory or balance - this is an additional bonus from us.
✅ All accounts have an inventory of CS GO items. Usually the cost of things is from 150 to 10000 rubles.
✅ Many accounts have CS GO hours> 100 hours.
✅ On all accounts, you can change all data, including password, mail, and you can also bind a phone.
✅ Many accounts have a lot of inactivity.
✅ You can play with your friends online.
❌Vac bans for other games are possible on the account, and the marketplace may not be open.
❌Very rarely, some accounts lack the ability to add friends (you can ask a friend to add you).
🎁 GIFTS:
By purchasing this product, you can get an Origin account with a random paid game for free! To do this, leave a positive review of the form: "I want a gift", after which within 72 hours we will write the data from the account in the correspondence with the seller.
Additional Information
After entering your account, do not forget to do the following in order:
• Change the contact email address;
• Change the password on the account;
• Link a cell phone or install the Steam mobile application (more -
http://store.steampowered.com/promotion/twofactor?l=russian
)
• Enable Steam Guard.
Other goods:
https://wmcentre.net/seller.php?ids=266567
Agreement:
• Attempts to deceive will be recorded and reported to the administration. All disputes will be resolved only if the buyer provides a video of the purchase of the goods.
• Accounts are not guaranteed. If you have successfully logged into your account, it can no longer be exchanged / returned.
• In the event of force majeure situations with your account (return, theft, restrictions on the purchase / exchange, etc.), you have no claims to us.
• All problems are considered only in cases where the description of this product does not match. In all other cases, the seller and the buyer solves the problem only through the administrator of the trading platform.
20.03.2023
Used the account for 6 days
Changed mail, phone, all other data
Today, the real owner restored it through the cards with which he paid
I don't know how to fix it, I was very upset
Answer in the correspondence.

Bought, everything is fine, I want a gift
Everything came password everything working I want a GIFT PLEASE NOTE I WANT A GIFT
Everything has come) I want a gift
I want a gift, my account is working
The account got all the nishtyak good luck to everyone
I bought the goods, without cheating. Everything suits
All the data came instantly, thanks for such promptness and conscientiousness :) The seller is the best :)
Everything looks great, thank you)
I bought an account on 30.07.2021/XNUMX/XNUMX, everything is fine, the account is working and I still have it. I leave a review before buying the next one.
The account has arrived. Everything is fine. Everyone is happy. I want a present

do not buy, the acc will be returned, the review is positive because the negative is deleted
SIMPLY TOP , GTA 5 , FAR EDGE 5 , PAPG
I went to the account the first time, on the balance sheet 20 rubles + inventory for 250-300 rubles. I want a present
Everything is fine! The goods are in place, I advise everyone!
acc didn't return and offered wot don't believe him fuck
Thanks to! the account was last used on January 13, I will hope that they will not return it back! Thank you very much to the seller, I would like a gift <3
I want a present. account working still in account bought left 4 dead and battelfield 5 no skins
Completely bred do not buy all the reviews of the lies I bought an acc for 2 they stole it and then they say the record is fucked up I will find you a creature
norms, Kalash paid off half of the cost (So far, the owner has blocked the account. I'm waiting for the seller's answer)