Account XBOX GAME PASS Sid Meier's Civilization VI 6🎁*
Replenishment date: 29.05.2023
Content: text (30 symbols)
️Automatic issue of goods ✔️
Seller

Ask a Question
Report a violation
Seller discounts
for all goods
The goods are given a discount for regular customers.
If the total amount of purchases from the seller kostet624 more than:
Description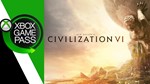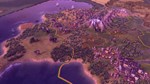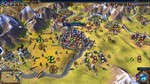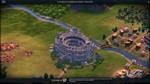 ✅ Immediately after purchasing this product, you will receive login data for a Microsoft account without access to mail (Account GENERAL) with the game Sid Meier's Civilization VI + 450 games. WARRANTY at the time of purchase and is 7 days.
Originally created by legendary designer Sid Meier, Civilization is a turn-based strategy game that challenges the player to build an empire that can stand the test of time. Become one of the mighty of this world by founding and leading a civilization over many eras, from the Stone Age to the Information Age. Declare wars, engage in diplomatic negotiations, develop culture and challenge the greatest leaders in human history to build the greatest civilization ever known to mankind.

Civilization VI offers many new ways of interacting with the game world: now cities grow, taking up more and more space on the map, your actions affect the course of scientific research and the cultural life of a civilization, and opponents pursue different goals depending on their historical features in attempts to achieve one of five ways to win the ultimate victory.
✅ The account is designed for offline mode. The account is shared. If you can't download the game, download it via torrent and add it to your games library.
Additional Information
⚠️WARNING:⚠️
✔️ Requires a fresh version of Windows 10/11 (all versions except corporate will do)
✔️ Make sure you can install Xbox games and apps from the Microsoft Store before purchasing
✔️ Activation is not lost when reinstalling Windows
🚫 The account is not suitable for cloud gaming
🚫 The product does not include games from Electronic Arts and Ubisoft
🚫 Transferring data to other users or attempting to change the password is prohibited and will lead to your blocking!!
+ 1 random Steam key or discount coupon (of your choice) to everyone who leaves a positive comment! *(if your purchase amount is from 100 rubles) 🎁
✍ Thank you for your positive feedback!
💬 We kindly ask you not to leave negative feedback before contacting the seller, in most cases your problem will be solved as soon as the seller reads your message. Thanks for understanding.
🌸 Many games, subscriptions and accounts at the cheapest prices only in my store! 🌸