Steamag
Date of registration: 25.01.2016
E-mail:
anthony9426rus@yandex.ru

Ask a Question
Report a violation
Seller's products (2)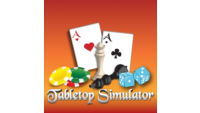 Tabletop Simulator new account (Region Free)
price:
3,00
$
7 Days to Die new accounts (Region Free)
price:
2,18
$
I recommend with confidence very quickly responded to the message

Great seller. New account. Data change is fast. Recommend!
this is a great seller. i have bought many things from them. they always deliver a great product. highly recommended!
Legit Seller Gave me full access to the account and helped me to change email i would recommend buying form this seller.
The best store, quickly responded within 2 minutes, adequate communication with the buyer!
Quick communication, helped me resolve all the issues. I recommend
everything is cool, everything suits me. support top !!!!!
Good service, got account and was able to change info after contacting customer service.
Everything is fine, I will enjoy the game
Working Perfectly. ty so much
he is the best seller on the market
Gave me a wrong account first. Then I contacted him and he gave me a new one for free! Best seller on the website <3
I highly recommend buying everything here.
Everything has come, the account is working!