ZENMATE VPN ULTIMATE [60 DAYS] + RENEWAL + WARRANTY
Replenishment date: 21.02.2023
Content: text (27 symbols)
️Automatic issue of goods ✔️
Seller

Ask a Question
Report a violation
Seller discounts
for all goods
The goods are given a discount for regular customers.
If the total amount of purchases from the KRUCHOK seller is more than:
Description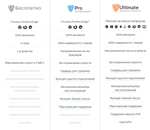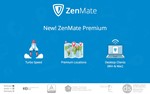 ZenMate VPN license account with "Ultimate for all devices" subscription
✅ THE SELLER GUARANTEES:

✔️ LICENSE account with an active subscription;
✔️ INSTANT delivery of goods to your mail;
✔️ WARRANTY 2 months for maintenance of the purchase, but usually the account works much longer;
✔️ CASHBACK for a positive product review (% of the purchase amount);
✔️ QUALIFIED technical and information support;
✔️ FAST responses to all questions regarding this product;
✔️ PROMO CODE - discount on your next purchase!
📌 INFO:

❗ All accounts without regional restrictions.
❗ You get access to the account. The account is not transferred to you.
❗ Before buying, carefully read all the conditions (see "additional information").
-------------------------------------------------- -
💰 SUBSCRIPTION:

❗ Guaranteed subscription period on account: 60 days.
❗ The account may have a subscription for a smaller number of days, but then the subscription will be renewed.
-------------------------------------------------- -
🎮 USE:

❗ Recommended for use on no more than 2 devices.
❗ Accounts are for personal use only.
⭕ Leave a POSITIVE FEEDBACK after purchase. It is very important for me! Thank you.
❌ Please don't leave negative feedback but contact the seller first!
❗❗❗ ATTENTION:

🚫 Any manipulations with the account are strictly prohibited (what is not provided for by the subscription and may lead to loss of access)!
🚫 it is forbidden to change account data - login / mail / password;
🚫 it is forbidden to perform any other third-party activity on the account - disable devices, add to favorites, make purchases, link a card, etc.!
🚫 it is forbidden to transfer accounts to third parties!

❗❗❗ VIOLATION OF THE ABOVE RULES WILL RESULT IN LOSS OF ACCESS AND YOU WILL LOSE YOUR WARRANTY! ❗❗❗
🔴 DESCRIPTION:

ZenMate Ultimate is the only plan that supports all your devices. Including smartphones, Smart TVs, PCs, tablets and others. We offer dedicated apps for Windows, Android, iOS, macOS, Android TV, Fire TV, OpenVPN, and even Chrome, Firefox, and Edge browsers.
🔥 FEATURES:

• Secure VPN for all devices
Available for: Windows, macOS, OpenVPN, Android, Android TV, iOS, Chrome, Opera and Firefox.
•Kill Switch
If your VPN connection drops unexpectedly, ZenMate for Windows will block your internet traffic.
• Separate servers for streaming
Whether you want to watch Netflix, Hulu, BBC iPlayer or Amazon Prime, we have dedicated streaming servers that boast blazing speeds and no bandwidth limits!
• Hiding your IP address
Change your IP address to become virtually invisible, access websites and keep your data safe.
• Fantastically high speed
Experience the highest speed when streaming content and download files without fear for your safety.
• More than 81 locations
We have servers in 81+ countries for unlimited bandwidth and lightning fast downloads.
• Strict no-logs policy
ZenMate VPN has a strict no-logs policy. You can be sure that no one can control and track your online activity and data.
• Military Grade Encoding
ZenMate VPN uses 256-bit AES encryption - the same technology used by the military - to keep your data secure.
Additional Information
• after payment, an account of the type Login:Password will be instantly sent to the mail specified by the buyer to enter the application / site / client, etc., etc.;
• to leave a review, or see previously made purchases, go to your account on the site
http://oplata.info
;
• I am not responsible for the operation of the service, application, your provider, etc., etc., but I will always try to do my best to help you;
• replacement of goods is possible only if there is no subscription on the account / inoperability of the received account (which is very unlikely, since I personally check all accounts before putting them up for sale) at the time of the transaction; at the end of the subscription on the purchased account earlier than indicated in the description/name of the product. In other cases, the seller reserves the right to refuse you;
• if you have a problem with the product, then you can contact the seller using the "correspondence" form (available after paying for the product, near the "product review" field) - I will answer you as soon as possible;
• access to mail is not provided;
• the seller reserves the right to refuse to serve you in case of fraud, threats, blackmail, insults towards the seller in personal correspondence. Attempts to deceive will be recorded and reported to the administration and other sellers;
• in case of additional questions, you can always write to the seller using the "ask a question" form.
PLEASE DO NOT BUY THE PRODUCT IF YOU DO NOT AGREE TO THE ABOVE TERMS!