Xbox Game Pass Ultimate + EA - 3 months (Activation)
Replenishment date: 18.08.2021
Manual issue of goods
You may need to contact the seller to receive the item. Carefully read the terms of delivery specified in the product description
Seller

Ask a Question
Report a violation
Description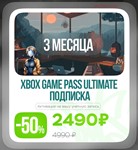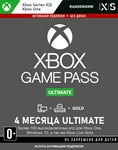 Payment with a minimum commission using any bank card 💳 you can through Enot.io from Russia. Especially for you!
After payment you will receive a unique code, it must be sent to the seller to receive the activation of the subscription.
This product is for new accounts only. Important - you should not have had any account equivalent on your Xbox Game Pass for PC subscription before
🔥 Average subscription activation time - 15 minutes
This product does not imply receipt of an activation code. The product is activated by the seller.
As an option: You can register a new account - download games from there - play on the main one!
After payment, you will need to provide a login / password to enter your account, where to do to activate Xbox Game Pass Ultimate - 4 months.
After receiving a unique code, login and password from you, the seller activates the subscription to your account within 15 minutes - 1 hour. Night orders are processed after 11.00 Moscow time.
> After the completed operations, your account will be activated subscription Xbox Game Pass Ultimate - 3 months
The seller gives a guarantee for the entire subscription activation period - 3 months
Additional Information
The Xbox Game Pass Ultimate includes:
- Live Gold
- Game Pass for Console
- Game Pass for PC
- EA PLAY