Warhammer Vermintide 2 Collectors Edition Steam
Replenishment date: 31.10.2022
Manual issue of goods
You may need to contact the seller to receive the item. Carefully read the terms of delivery specified in the product description
Seller

Ask a Question
Report a violation
Description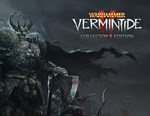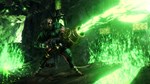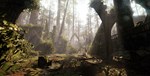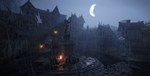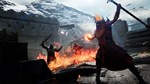 After the purchase, you will receive a KEY to activate the specified software product.
The purchase ID is 16 characters, use it to get the product code on the merchant site.
Warhammer Vermintide 2 Collectors Edition Steam -- AU
Release date: March 8, 2018
Age rating: 18+
Developer: Fatshark
Publisher: Fatshark
Localization: Russian (interface and subtitles)
Activation System: Steam
Region: Russia
Description:
Darker, bloodier and more intense than ever, Vermintide is back!Warhammer: Vermintide 2 - Collector´s Edition includes:
Game Warhammer: Vermintide 2.
The official soundtrack of the game.
Thematic models of Helmgart.
Desktop wallpaper.
Warhammer: Vermintide 2 is the sequel to the critically acclaimed Vermintide. It's time to re-immerse yourself in a ferocious first-person co-op hack-and-slash, where frenetic, top-notch hand-to-hand combat awaits you in the apocalyptic world of the End Times, the war-torn wargame world of Warhammer Fantasy Battles. armies of Chaos and swarming Skaven hordes. Get ready to face challenges like never before as you desperately try to survive the endless carnage.Choose one of 15 development paths, climb talent trees, customize your arsenal to suit your play style, fight your way through tons of awesome levels, and test your mettle in our new heroic system. feats. The only thing standing between total collapse and victory is you and your allies. If you fall, the Empire will fall.
Key Features:
Relentless co-op battle for 4 players.
The combined forces of Chaos and Skaven are fierce and ruthless, and getting out alive will require teamwork.
5 heroes and 15 development paths.
Choose from 15 unique development paths, each with their own skins, abilities, talents and weapons.
The creatures of Chaos and the skaven work together.
Prepare to face a threat of unprecedented proportions as the armies of Chaos and Skaven have formed a dark alliance to plunge the world into ruin and decay. Our heroes will face hordes of enemy fighters of all kinds and sizes.
The system of heroic deeds.
Experience unique scenarios and intense challenges with our new system of Heroic Deeds - one-time missions that dramatically change the composition of the enemy army, level settings, weapon usage and mission objectives.
Talent tree and development.
Level up your heroes and climb the talent tree of your chosen path, unlocking new abilities and gaining access to powerful equipment along the way.
The adventure continues.
Explore a wide variety of exciting levels in and around Helmgart, the walled city that defends the Breton frontier of the Empire.
New improved mining system.
At the end of each mission, you'll be rewarded with the appropriate loot: weapons, one-time quests, charms, hats, upgrade materials, and more - whatever suits your chosen path.
Fight countless hordes of enemies.
Faced with an endless horde of Skaven, reinforced by the ferocious might of the Chaos army, the heroes must rally and find a middle ground between sound tactics and fury to overcome their disadvantageous position.