🎮The Surge 2 Premium Edition (PS5/RUS) Activation⭐️
Replenishment date: 01.09.2023
Content: text (55 symbols)
️Automatic issue of goods ✔️
Seller

Ask a Question
Report a violation
Seller discounts
for all goods
The goods are given a discount for regular customers.
If the total amount of purchases from a Jackson PSN seller is more than:
Description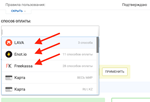 💳Citizens of the Russian Federation and the CIS can pay by bank card without commission through Enot.io and Freekassa payment methods✅
Attention❗️ Closing the official Playstation RU Store does not affect the operation and launch of already purchased games.
Everything works as before

▶️Activation for PS5: Available✅
▶️Activation for PS4: Unavailable🚫
☑️Warranty: Indefinitely for the entire period of use ❗️

⏩GAMES:

🎮 The Surge 2 - Premium Edition - (Russian text)
➖➖➖➖➖➖➖➖➖➖➖➖➖➖➖➖➖➖➖➖➖➖


🔺🟢✖️🟪Activation (Game to your main profile) 🟪✖️🟢🔺

✅The account is personal and created by us!
✅The game(s) has been officially purchased with it from the PS Store!
✅No Internet restrictions!
✅Multiplayer and online features available!
✅Starting the game is carried out from your account!
✅Achievements / Saves - remain on your account!
✅ We provide a guarantee on the performance of the game for the entire period of use!
Additional Information
💯Guarantees and benefits of our accounts:

1. The account was created by us personally and the game was also purchased officially from the PS Store.
2. If you try to violate the terms of use (trying to change data), we will immediately notice this and you will lose the opportunity to play further!
2. We always have access to your account, and in case of any problems feel free to write to us.
3. It is possible to sell us an account back if the game is boring or does not live up to expectations. For this question, you can always contact us in the correspondence on the page for receiving the goods.
4. We guarantee that the game will always work for you until you decide to delete it.
⚠️Terms of Use By purchasing the product, you automatically agree to the following:

1) It is forbidden to play on the purchased account;
2) Play strictly from your user;
3) Data from the account is FORBIDDEN to change!;
4)Re-entry is prohibited, but if you need to download, reinstall, etc. then write to us in correspondence, we will help you.