PAYDAY 3. Gold Edition | ONLINE | AUTOACTIVATION🔥
Replenishment date: 18.09.2023
Content: text (1146 symbols)
️Automatic issue of goods ✔️
Seller

Ask a Question
Report a violation
Seller discounts
for all goods
The goods are given a discount for regular customers.
If the total amount of purchases from the seller -SEYTER- is more than:
Description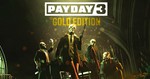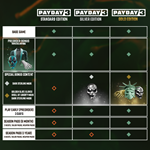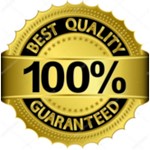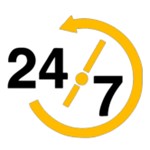 🔥 INSTANT ISSUANCE OF GOODS (24/7) AFTER PURCHASE! 🔥
⚡ Delivery of goods to the specified mail immediately after payment
💳 40+ payment methods, minimum fees
🕥 The game is activated independently according to the instructions, at any time of the day and without the participation of the Seller
👑The easiest, most convenient and automated activation among competitors
🔒 No need to provide remote access to a PC or wait for login confirmation!
⭐ LIFETIME WARRANTY* for the product
🌀 Platform: Microsoft Store
🌎 Region: GLOBAL (you can play anywhere in the world, including Russia/CIS, no restrictions)
✍ Language: Russian | English | MULTI
🚀 INCLUDED IN THE PACKAGE:
💜 Game:
- PAYDAY 3. Gold Edition

⭐Deluxe Edition:
• Pre-order bonus
• SEASON PASS (12 months)
• Dark Sterling mask
• Mask "Grin of Freedom"
• "Golden Slate" gloves

🎁Pre-order bonus:
• Pre-order mask: "Poisonous copperhead"
• Pre-order gloves: Striped Cotton
• Pre-order costume: Obsidian Glitter
• Early access (3 days)
⏩ AFTER PURCHASE YOU WILL INSTANTLY RECEIVE:
💠 Autoactivator + unique key 🔑
💠 Detailed VIDEO and TEXT instructions (activation in a couple of clicks in ~30 seconds, even an inexperienced PC user can handle it)
💠 Extended FAQ (problem solving, answers to frequently asked questions and other useful information)
💠 Operational support and assistance in any questions
💠 Free transfer to another PC (if you update the components)
💠 Lifetime access to your account*
💜 BONUSES:
🎁 There may be other games on your account, this is a GIFT!
🎁 We give everyone without exception a PROMO CODE for the next purchase (for all products)
🎁 Cumulative discount for regular customers up to -25%!
🎁 For a positive review, you will receive a gift certificate (CASHBACK)!
⭐ WHAT IS ONLINE ACTIVATION?
❇️ No need to wait for a hack, the latest patch or new DLCs, play now!
❇️ Full license with working online, all released DLCs are available, the game does NOT crash!
❇️ The game will have your NICKNAME from your "XBOX Live" profile and "NEW GAME" (saves and achievements are linked to it)
If you have already played through "Xbox Game Pass", etc., you can continue the game, all saves will remain!
❇️ The game is downloaded directly from Microsoft servers, without time limits
❇️ The cost of the product is tens of times less than the price tag in the Microsoft Store, although in the end you will have a working, current licensed version of the game, with the latest patches and DLC
❇️ Automatic update of the game to the latest version and receiving new DLC as they are released, without the participation of the seller
❇️ You can play for an unlimited amount of time, the key works endlessly
❇️ You can play with your friends if they also buy this product
❇️ It doesn't interfere with using your personal account, it's also 100% SAFE!
❇️ Activation will NOT fail after reinstalling Windows, logging out of your account, or replacing PC components*
❇️ No limit on the number of simultaneously activated games
❇️ You can play together with users of Steam \ XBOX version
📝 INSTRUCTIONS:
⭐ Required for activation:
- Windows 10 x64 (v22H2 and later) or Windows 11 (works on the pirated version as well)
- XBOX Live account (registration -
http://www.xbox.com/
)
⭐ What you need to do before purchasing:
- Make sure there are no problems installing applications through the Microsoft Store
- Sign out of your personal Microsoft Store account
- Install the program "XBOX" (link -
https://apps.microsoft.com/store/detail/xbox/9MV0B5HZVK9Z
)
- Log in using your personal Xbox Live account
🛒 Next: pay for the goods, check your email, look at the instructions and activate!
Additional Information
⚠️ IMPORTANT INFORMATION! ⚠️
◾ Any changes to account data / transfer to third parties is strictly prohibited
◾ One activation (one key) = 1 PC
◾ Login to your account is made only through the activator (.EXE), login / password is not issued. The activator does not contain malicious code, does not collect personal information and is completely safe for your system
◾ After activating the key, no refund is made
◾ *Lifetime warranty - guarantees access to the product as long as it is technically possible to provide this service (restrictions on offline play by the platform/developers, other unforeseen events). From our side, there will be no restrictions on the use of the product, you can play it as long as you want
◾ *If you want to change PC components, write to the seller in advance to transfer the license
◾ The product is NOT suitable for playing through cloud services (Cloud Gaming and analogues), virtual machines and XBOX consoles
◾ By purchasing a product, you agree to ensure the functionality of the activator by disabling any conflicting software, as well as ignoring possible false-positive reactions of antiviruses

❌ In case of violation of the rules - denial of service and blocking of the key, without a refund.
🎮 MINIMUM SYSTEM REQUIREMENTS:
• OS: Windows 10
• Processor: Intel Core i5-9400F
• RAM: 16 GB of RAM
• Video card: Nvidia GTX 1650 (4 GB)
• Network: Broadband internet connection
• Disk space: 65 GB
*If you are not familiar with the specifications of your PC, download the AIDA64 or Speccy program, it will provide detailed information about the main components of your system, then compare them with the minimum requirements of the game. Or use the site -
https://technical.city/ru/can-i-run-it
** This product (activation) is only for Windows systems and does not work on MacOS / Linux, even if the game is officially supported by them.
*** You can activate the game on ROG Ally or Steam Deck (if Windows is installed on it), however, we are not responsible for the operation of the game and its performance on portable devices.