Lies of P Deluxe Edition | STEAM | OFFLINE⭐
Replenishment date: 15.09.2023
Content: text (20 symbols)
️Automatic issue of goods ✔️
Seller

Ask a Question
Report a violation
Seller discounts
for all goods
The goods are given a discount for regular customers.
If the total amount of purchases from the Jamba Store seller is more than:
Description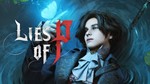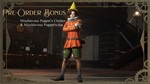 ⏳ AUTOMATIC DELIVERY OF GOODS AFTER PURCHASE! ⏳
✉️ Instant delivery of goods to the email address specified during payment
⌚️ Technical support for users from 9:00 to 22:00 Moscow time (GMT+3)
💳 0% commission when paying via LAVA, card or QIWI
🎁 For a positive review, you will receive a gift certificate worth 10% of the cost of the product!
📝 Simple instructions for activating the game yourself
⚙️ Without using third-party software
💻 Platform: STEAM
🌎 Region: GLOBAL (You can play anywhere in the world. Including Russia | CIS)
🎮 THE SET INCLUDES:
• Lies of P Deluxe Edition

Pre-order bonuses:
• Clothes of a mischievous doll

Deluxe edition bonuses:
• The Great Venigni's Signature Coat
• The Great Venigni's Glasses
• Mask worn by those preparing for the festival 💡 Text instructions for self-activation of the game (Completes in 1-2 minutes)
💡 Technical support and assistance for any questions
💡 Free access to all future patches and DLC included in the publication
💡 Unlimited access to the game

WHAT IS OFFLINE ACTIVATION❓
Offline activation is a way to play on a shared Steam account offline without losing your progress and the ability to use your personal account.

✔️ Licensed copy of the game on a shared Steam account
✔️ Saving your money on completing story games
✔️Download directly from Steam servers
✔️ Possibility of free game updates
✔️ Download available DLCs
✔️ You can play for an unlimited amount of time offline
✔️ You can use your personal account
✔️ Ability to install mods

Additional Information
ℹ️ IMPORTANT INFORMATION! ℹ️
◾️ The account is not transferred to your ownership. Changing or transferring data to third parties is strictly prohibited
◾️ This product is not suitable for playing via cloud services
◾️ 1 activation = 1 PC
◾️ Account warranty - 12 months
◾️ Game activation is available on Steam Deck
MINIMUM SYSTEM REQUIREMENTS:
64-bit processor and operating system
OS: Windows 10 64bit
Processor: AMD Ryzen 3 1200/Intel Core i3-6300
RAM: 8 GB RAM
Video card: AMD Radeon RX 560 4GB / NVIDIA GeForce GTX 960 4GB
DirectX: 12 Versions
Disk space: 50 GB
I bought the product, the seller responded instantly, everything is fine!