LEGO Star Wars The Skywalker Saga Deluxe Steam key
Replenishment date: 16.03.2023
Manual issue of goods
You may need to contact the seller to receive the item. Carefully read the terms of delivery specified in the product description
Seller

Ask a Question
Report a violation
Description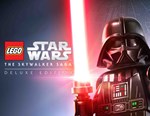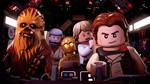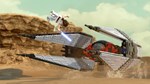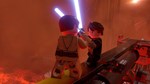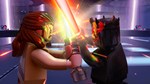 After the purchase, you will receive a KEY to activate the specified software product.
The purchase ID is 16 characters, use it to get the product code on the merchant site.
Attention! The publisher has limited the activation of the game on the territory of the following countries: Russia, Belarus.
Release date: April 5, 2022
Age rating: 6+
Developer: TT Games
Publisher: Warner Bros. Games
Localization: English
Activation System: Steam
Region: Azerbaijan, Armenia, Kazakhstan, Kyrgyzstan, Moldova, Tajikistan, Turkmenistan, Uzbekistan, Ukraine
Description:
LEGO Star Wars: The Skywalker Saga Deluxe EditionDeluxe Edition includes 7 downloadable character sets. The digital edition also includes the exclusive classic playable character Obi-Wan Kenobi. The galaxy is yours in LEGO® Star Wars™: The Skywalker Saga. Unforgettable moments and non-stop adventures from all nine films of the Skywalker saga await, reimagined with signature LEGO humor. The digital edition also includes the exclusive classic playable character Obi-Wan Kenobi.Explore the trilogies in any orderYou will experience the epic story of all nine films of the Skywalker saga, but first you have to choose which trilogy to start the journey with.Play as legendary heroes and villainsOver 300 playable characters from across the galaxy.Explore Legendary LocationsPlayers will be able to visit well-known locations from their favorite films in the Skywalker saga. As you progress through the saga, you will be able to open 23 planets and freely travel around them or explore them and complete exciting tasks. Command powerful vehicles You can command more than 100 vehicles from all over the galaxy. Join the fray and take down flagships like the Super Star Destroyer, which you can board and explore. Immersive Gameplay Connect attacks into combo chains and deflect oncoming attacks. New blaster mechanics and controls let you aim accurately or use Jedi skills in lightsaber and Force wielding. Upgradable Character Skills As you explore, players earn rewards when they find Kyber Bricks, unlocking new abilities and improved abilities for various character classes, including Jedi, Hero, Dark Side, Villain, Scavenger, Scoundrel, Bounty Hunter, Astromech Droid and Protocol Droid.