CS: GO account Coins for 5 and 10 years of service + gift
Replenishment date: 27.10.2022
Content: text (144 characters)
Seller

Ask a Question
Report a violation
Seller discounts
for all goods
The goods are given a discount for regular customers.
If the total amount of purchases from the Seqwing seller is more than:
Description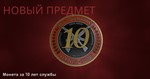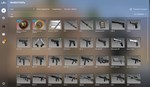 After payment you will receive a Steam Account, where a coin for 10 years of service will be opened.

✅All accounts without VAC locks.
✅All accounts usually have a lot of inactivity.
✅The presence in the inventory immediately after entering the game of coins for 5 and 10 years of service.
✅ Purchased game CS 1.6 or CSS.
❌CS: GO Prime no status.
❌Many accounts do not have the ability to add friends (they can add you).

🎁 GIFTS
By purchasing this product, you can get a gift in the form of an Origin account with a random paid game for free! To do this, leave a positive review of the form: "I want a gift", after which within 72 hours we will write the data from the account in the correspondence with the seller.
Additional Information
ATTENTION! The coin will appear only after you enter the CS GO game! To do this, follow the link in the store and click "Play"
https://store.steampowered.com/app/730/CounterStrike_Global_Offensive/
After entering your account, do not forget to do the following in order:
• Change the contact email address;
• Change the password on the account;
• Link a cell phone or install the Steam mobile application (more -
http://store.steampowered.com/promotion/twofactor?l=russian
)
• Enable Steam Guard.
Other goods:
https://wmcentre.net/seller.php?ids=266567
Agreement:
• Attempts to deceive will be recorded and reported to the administration. All disputes will be resolved only if the buyer provides a video of the purchase of the goods.
• Accounts are not guaranteed. If you have successfully logged into your account, it can no longer be exchanged / returned.
• In the event of force majeure situations with your account (return, theft, restrictions on the purchase / exchange, etc.), you have no claims to us.
• All problems are considered only in cases where the description of this product does not match. In all other cases, the seller and the buyer solves the problem only through the administrator of the trading platform.
Everything is clear
Akk in place
With two medals
The account was logged in to play CSGO on August 15. i´m not sure if it will be recovered!
The account email is not the initial email. The account has no recent transactions. What scares me is that self-lock!!! Buy with caution!
everything is all working thank you and yes I want a gift
So far I'm happy with everything, there were no problems with logging in and changing data, but the question is how to replenish the account so that it would not be blocked)
good support with seller.
Everything came quickly, without cheating. Thank you very much.
Thank you, everything is as in the description, I forgot to see how much the account was lying down. In the future I will purchase a prime and will be as a reserve.
+ want a gift
Everything is fine, I'm waiting for a gift