Commandos 3 HD Remaster (steam key)
Replenishment date: 20.03.2023
Manual issue of goods
You may need to contact the seller to receive the item. Carefully read the terms of delivery specified in the product description
Seller

Ask a Question
Report a violation
Description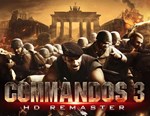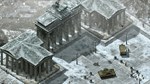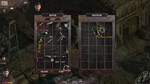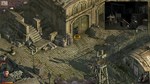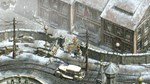 After the purchase, you will receive a KEY to activate the specified software product.
The purchase ID is 16 characters, use it to get the product code on the merchant site.
Release date: 30 Aug 2022
Age rating: 16+
Developer: Raylight Games
Publisher: Kalypso Media Digital Ltd
Localization: Russian (interface and subtitles)
Activation System: Steam
Region:CIS, Russia
Description:
Get in line, soldier! "Commandos 3: HD Edition" is a game that will take you to Europe and engage in fierce battles. Fight in the deadly trenches of Stalingrad, take on a fanatical enemy in the heart of the Third Reich in Berlin, and call upon all your tactical knowledge to survive the Normandy landings. This is the third remastered edition of the highly acclaimed real-time tactical game. In it you have to lead a special squad of ferocious fighters who operate behind enemy lines during the Second World War. Help the allies achieve victory! The game is available in high definition; controls and user interface have been improved.
Key Features: The game was released in high definition: 3D models and textures have been completely redesigned, controls have been improved, the user interface has been perfected, tutorials and tips for beginners have been added.
Lead a squad of six desperate special forces: green beret, sapper, sniper, diver, spy and thief - experts in their field, each of which is extremely important for the success of the mission.
Relive the famous campaigns of World War II: go from training camp to 12 dangerous missions; visit three different fronts - in Stalingrad, in Central Europe and in Normandy.
Action-packed missions with a compelling storyline: Lead a team of fearless commandos on a dangerous adventure. Commandos 3: HD Edition has even more detail and action than previous titles in the series.
Gather your troops in a multiplayer match: Compete in Deathmatch or Capture the Flag modes with two to eight players and meet all the necessary conditions for victory.
ADULTS CONTENT DESCRIPTIONThe developers describe the content as follows: This game may contain content that may not be suitable for all ages: Violence, references to alcohol and tobacco.