Assassins Creed Valhalla: Complete Ed. (RUS) [OFFLINE]
Replenishment date: 03.04.2022
Content: text (767 symbols)
️Automatic issue of goods ✔️
Seller

Ask a Question
Report a violation
Seller discounts
for all goods
The goods are given a discount for regular customers.
If the total amount of purchases from the seller -SEYTER- is more than:
Description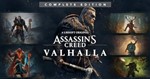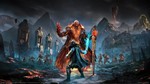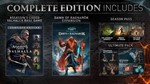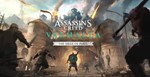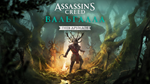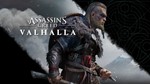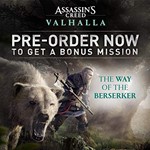 🔥 INSTANT DELIVERY OF THE GOODS AFTER PURCHASE! 🔥
😊 You do not need to wait until I connect via Team Viewer and activate.
🌎 Region: RU + CIS

💥 After the purchase, you will be given an activator and a key to it, with which you yourself activate the game (detailed instructions included), everything is done in a few clicks, so even the most inexperienced PC user can handle it.
✔️ Activations are performed from PERSONAL accounts, you will not lose your save and complete the game!
🎁 For a positive review, you will receive a gift certificate (cashback) for other purchases, as well as a promotional code for a discount on any of my products!
🔵 Localization:
Language: English
Voice language: Russian | English

❗ Change to another is IMPOSSIBLE.
⚡ INCLUDED IN THE SET:
💜 Game:
- Assassins Creed Valhalla: Complete Edition

🎮 SEASON PASS:
• DLC "Wrath of the Druids"
• DLC "Siege of Paris"
• DLC "Dawn of Ragnarok"

🎮 ULTIMATE KIT:
• Set "Berserker Equipment"
• Set "Drakkar berserker"
• Set "Berserker Village"
• A set of runes that allow you to improve weapons or equipment of your choice

🎁 Bonus for pre-order: Additional task - "THE BERSER'S WAY"
📌 What is offline activation?
✅ After purchasing the activation, you get Uplay (Ubisoft Connect) with a seller account in offline mode with the selected game.
✅ Activation will give you the opportunity to play an unlimited number of times in the purchased game (following the instructions).
✅ You can easily use your PERSONAL account (playing your games, from your account) without losing activation

⭐ Pros:
- You don't have to wait for the hacking of the game \ the latest patch \ new DLC
- The cost of activation is several times less than the price tag in Uplay (or other service / marketplace), although in the end you will have a working, current (at the time of purchase) licensed version of the game.
- The game is not limited in time
- Doesn't interfere with your main account, you can play your games without any problems

⭐ Cons:
Activation flies:
- when changing / updating Windows, changing hardware (you cannot add / remove anything), however, it is POSSIBLE and necessary to update the drivers for the video card!
- restore \ change \ update Windows
- a sudden power outage \ any BSOD
- an attempt to update the game on your own
📝 Instruction:
1. We buy a product (included: auto-activator and a key to it, activation instructions, detailed instructions on how to avoid activation rally). The game can be downloaded from your account.
2. Read the DETAILED instructions and activate the game. The activator will do almost EVERYTHING for you!
🔴 ATTENTION! 🔴
- Any changes to your account data are strictly prohibited.
- One activation - 1 PC.
- You need to activate the game within 24 hours from the date of purchase (after the key will not work).
- All subsequent patches and additions are paid separately.
- Due to the limits of the built-in DRM and the peculiarities of Uplay (Ubisoft Connect), in rare cases, the first launch of the game is not possible immediately, after successful activation, the game can be launched at any time.
- This product is NOT suitable for playing through cloud services (PlayKey / GeForce Now, etc.)
- Due to the technical features of the software, it is possible that the activator is mistakenly identified by some antiviruses as malware. By purchasing a product, you agree to ensure the functionality of the activator by adding the file to the exclusions.

❌ If the conditions are not met, you are denied a service and the key is locked (without a refund)
Additional Information
🎮 MINIMUM SYSTEM REQUIREMENTS:
OS: Windows 10 (64-bit)
Processor: Intel Core i5-4460 @ 3,2 GHz or AMD Ryzen 3 1200 @ 3,1 GHz
RAM: 8 GB RAM
Video card: NVIDIA GeForce GTX 960 (4GB) or AMD Radeon R9 380 (4GB)
DirectX: 11 Versions
Disk space: 60 GB
👉 List of all products:
-
https://wmcentre.net/seller/seyter-688409
Great seller. Installations are always without problems, the main thing is to carefully read the description of how to install!
I finally decided to buy offline activation and was extremely pleased, a fairly simple installation in 5 minutes
Everything went with a bang????????
Everything worked, according to the instructions everything is easy! Thanks a lot!!!
Gorgeous. Everything works. No problem. Recommend 100%
Everything is fine. Everything works. There are no problems. I recommend this seller.
Bought off. activation of Valhalla (complete). All OK. Thanks to -SEYTER- and the WMCentre site.
Top seller. I've been taking it for the second year. Always discounts. And goes towards. Thanks a lot.
I bought it, activated it (although I stumbled a little, because the topic is new to me), but everything is super. I recommend!
Everything is high quality and fast, I recommend!
The transaction was successful, the game was activated! The main thing is to do everything according to the instructions!
Great seller! Helps if something goes wrong. I recommend!
Karachun full)
Everything is clear
Everything is fine, everything works! For 24 hours I did not have time to download the game and the seller reset the key to me)) Everything worked out! Thanks
everything always works fine, I have been taking games from SEYTER for several years and he never let me down)
Everything is great, I recommend it!
everything is fine, the seller is good
Best buy in my life! Bought the game and all expansions. Everything works without any failures and complaints. A full license that would cost 5 thousand bought for 99r.
And everything else, after I reinstalled Windows, my key flew off and I just wrote to the seller and he reset the key for free!
In general, everything is a gun-fire, I advise everyone!)))
The game is up and running great! I buy games only from this seller is not the first time
Everything is fine, I bought the game and activated it, BUT the next day the activation went off, I'm waiting for a solution to the problem, I waited 3 hours, the seller answered the problem, I solved it, thanks, I recommend
Everything went well) I recommend!