SteamReseller
Date of registration: 07.08.2014
E-mail:
SteamReseller@yandex.ru

Ask a Question
Report a violation
Seller's products (1)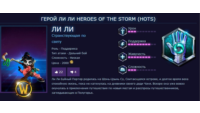 Hero Li Li for heroes of the storm (Battle.net Key)
Thank you, normal account. I want a gift, thank you
22.11.2016
I got caught not working .. waiting for the seller's reply
21.10.2016
The account was returned. I would like a refund
20.10.2016
Replace doesn't work
08.10.2016
a week later they gave a red sign, I demand a replacement !!!! The seller does not answer ...... if he does not answer until 21.10, I will complain to support!
Everything is good, the data is correct OK! I want a gift
All good, I'm waiting for a gift)
I bought an account, turned out to be invalid, gave a replacement. The account was canceled the next day ...
I wrote to support, they issued a replacement. Everything is fine! Thank you.
I bought an account, then a problem occurred, they replaced it without any problems, despite my rudeness and rudeness!
Good luck to the seller, victories and promotion!
Thank you!
The account was restored, but the seller got into the position and gave a replacement.
Thank:)
27.09.2016
Don't buy here.
27.09.2016 16: 57: 25
You are from Latvia. Accounts are not Region Free. Accordingly, by logging in from your country, you block your account.
27.09.2016/17/02 13:XNUMX:XNUMX buyer:
That is, whatever this account is blocked, should I be in Germany?
27.09.2016/17/03 42:27.09.2016:17 PM (viewed 03/53/XNUMX XNUMX:XNUMX:XNUMX PM)
No, you have to find in any Region Free country!
27.09.2016/17/06 44:XNUMX:XNUMX buyer:
I clearly understood my mistake.
26.09.2016
I played for 3 days and my account was restored! I changed everything ... Don't buy it!
Everything is super! The seller responds quickly, I only buy accounts from him!
Great seller, responsive, everything is great, got an account with 69 games! Recommend!
Everything is fine, thanks))) + 300 rubles on the account, I'm in the black, thank you very much!) Take this seller!)
Syap, everything works, but it's scary that the cop was launched today, I hope that the seller checked it))
Great account! no problem!
23.09.2016
* ASSESSMENT NEUTRAL * All accounts were always normal, cool, not restored, but this account failed, restored after 2 weeks. But all the same, I will say that there are accounts, unlike others - RESTORED RARELY! Out of 5 accounts, only 2 were restored in 1 months. If there were a score other than "Good" and "Bad" - "neutral" would be "neutral", because here everything is much better than others.
23.09.2016
2 weeks have passed, the account was blocked by the real owner .... Previously, they did not restore or block, but now it started again ... Which account is being restored here in a row, or is being blocked ...
Thank you, the account is good.
logged into the account, but it is meager, only cops without inventory
Oh, the seller is dirty, he wrote to the wrong account, just bought two, sorry, but there is no inventory at all