ptrbkk
Date of registration: 20.08.2022

Ask a Question
Report a violation
Seller's products (2)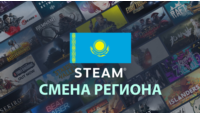 CHANGE REGION STEAM / STEAM TO KAZAKHSTAN (TENGE)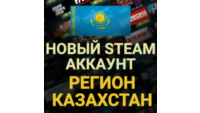 NEW KAZAKHSTAN STEAM ACCOUNT
Everything is ok, I buy games through Qiwi in tenge. I lose ~ 20% of the replenishment amount on the Steam KZ replenishment operation through Qiwi, although it is indicated that there is no commission.
Did everything quickly and accurately, respect
Everything is fine. Everything is working. Respect to the seller.
Everything was done quickly and efficiently. A week after several deposits and purchases, no ban
like class did everything quickly.??
Everything is fast and clear, thank you!
Everything is fine, the region change took less than 10 minutes
As long as everyone is happy
Everything works, you can buy
Did everything faster than expected. everything is uper))). I recommend)))
For the second time I make a purchase by changing the region on Steam from this seller, even in the morning Moscow time, the seller quickly did everything. Extremely satisfied.
Everything is fine, everything works
Did everything quickly, the region changed before our eyes
Thank you very much everything went well
Everything is fine, fast, efficient, vnature clearly!
Everything is fine, after getting in touch, the change of region took place in 10 minutes.
It is better to immediately write to the seller in the TG so it will be easier.
In fact, the prices are not particularly lower, but there is something that is more expensive.
For example, on a Dota plus subscription in the Russian store 1600 through tenge, depending on the kuras from 1700 - 1900
In general, it's up to you, but I have not yet received satisfaction from changing the region. If you know where you can replenish rf steam with a minimum commission, for example, 1.1 for 1 total 2200 for 2000. Better use this option
The seller responded quickly and promptly, everything changed, I recommend
Everything is super, fast and clear!
everything was done quickly and without problems
checked, everything works! Thank you ten minutes of business!
Fast, cool and great when your WG changes right before our eyes, thanks to the seller for the efficiency and quality work, I am satisfied with the service, s :)
Mega-quickly changed the region. Very satisfied.
Working as intended! Quick Service++
Everything was done quickly and without unnecessary troubles, it is definitely worth contacting this particular seller
Super fast, unsubscribed to the cart, did everything in less than 2 minutes
Everything is fine, the region has been changed. The seller responds quickly and thanks for that!
Everything went perfectly!
everything has been translated