mmopix
Date of registration: 13.06.2022
E-mail:
fusik2009@gmail.com

Ask a Question
Report a violation
Seller's products (1)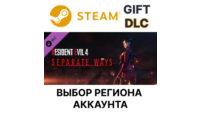 Resident Evil 4 - Separate Ways🎁Steam🌐 Region Selection
28.03.2023
I purchased this product, not a single word about the fact that this is only a DLS, the description says that the game is being sent.
All working bot sends dls to acc as a gift.
Fortunately, the seller agrees to a refund, but the commission is simply magnificent 15% + 50r, as a result, I gave half of the amount.

The name of the product corresponds to the name of the product from Steam. As well as the picture of the product, which is marked "DLC".
The commission is calculated based on the costs of receiving and sending payments. The seller loses % both on receiving payments for the goods and on sending them back. Therefore, the judgment that the product "hangs" for this purpose is erroneous because it does not make sense.
The product from the beginning did not work out for some reason, maybe due to the site, wrote to the seller, threw a gift on Steam, the seller is kind and honest, I ADVISE.