YouTube Premium | 12 months to your account | Guarantee
Replenishment date: 04.11.2022
Content: text (16 symbols)
Seller

Ask a Question
Report a violation
Description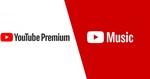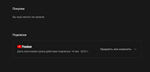 🆘 Prompt support in case of any questions 🆘

💸 Cashback - after purchase for a positive review, you will receive a gift card.


📦 By buying this product you get:

🔴 An individual YouTube Premium subscription for a period of 12 months to your account.
🔴 Ability to subscribe to both your old and new account.
🔴 Uninterrupted operation of the service throughout the entire period.
🔴 All premium features including YouTube Music subscription.
🔴 Works worldwide, no VPN required.
🔴 Warranty for the purchased product for the entire duration of the subscription.


💎 Youtube Premium main features:

🔻 No ads (Premium allows you to watch videos without being distracted by ads, including banners and ads)
🔻 "Offline mode" - useful when access to the Internet may disappear at the wrong time.
🔻 Youtube Music (The service is not limited to songs: it also includes podcasts. Audio is available for listening in the background and while working with other applications. If you wish, you can turn off the video sequence and enjoy your favorite artists in the "audio only" mode)
🔻 Background mode - you can freely switch between applications on your smartphone and tablet or use the service even when the screen of the device is turned off. Really convenient!
🔻 Access to exclusive YouTube Originals content
🔻 With a paid subscription, you get access to YouTube Originals - a collection of series, movies, and live broadcasts created by professional actors and popular video bloggers especially for YouTube.


We really appreciate your feedback, so we are very grateful to you in advance for your time.


📜 IMPORTANT:

📌 To subscribe after payment, you will need to provide a unique code for paying for the goods and data for logging into your Google account (mail-password), a one-time code if 2FA is enabled).

📌 The order is completed within 30 minutes - 3 hours, at night the deadline may be longer.
Additional Information
💎 What you need to do after purchase:
1) You need to write in the line "Correspondence with the seller" - a unique code that you received after payment and provide data from your Busuu account in the format (login:password).
2) After that, I process the application as soon as possible and activate Premium on your account.
3) On average, it takes up to 2 hours, up to a maximum of 18 hours after payment in a force majeure case.
Everything works great, fast and without unnecessary problems.
Everything is clear, it works! Thank you!
100% recommended!! Fast and safe!
Everything went quickly, perfectly and without delay! seller 12 out of 10 points!


Promptly, clearly, with a high degree of clarity and intelligence. Bravo!
The seller provided an email and password within a few hours after the purchase. I checked, the subscription is issued for a year, and individual. Backup mail was attached, untied without problems, changed the password. The seller is polite, asked to leave a review. And I don't feel sorry for a good person :)
Everything is super. Everything is clear. Thanks
everything is quick and easy!!!