🔑XBOX GAME PASS ULTIMATE 12 MONTHS + EA PLAY + CASHBACK💰
Replenishment date: 20.07.2021
Manual issue of goods
You may need to contact the seller to receive the item. Carefully read the terms of delivery specified in the product description
Seller

Ask a Question
Report a violation
Description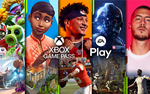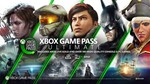 After payment, you will receive a unique code that you need to inform the seller 🔑
To install a subscription Xbox Game Pass Ultimate 12 months, you need to provide a username and password from your account
👌 If Xbox Game Pass Ultimate is installed on your account for the first time, INSTEAD OF 12 MONTHS YOU WILL RECEIVE 13 MONTHS XBOX GAME PASS ULTIMATE!
⚡️ ONLY LEGAL GOODS!
⚡️ WE GIVE A WARRANTY FOR THE ENTIRE PERIOD OF THE SUBSCRIPTION!
⚡️ SUITABLE FOR ANY REGION
Xbox Game Pass Ultimate subscription includes:
🔥 Xbox Live Gold
🔥 Xbox Game Pass
🔥 Xbox Game Pass PC
🔥 EA PLAY
A complete list of games included in the subscription can be viewed at the link:
https://www.xbox.com/ru-RU/xbox-game-pass/games
The library of available games is constantly updated and today it includes 337 games for Xbox One / Series X | S, and 220 games for PC.
Additional Information

Installing a subscription takes 15 minutes and 2 hours (usually faster)
Great, the activation was successful!
Subscription works