XBOX GAME PASS 3 MONTHS - PC TRIAL + CONVERSION 🔥
Replenishment date:
This item has run out. Check back later or try searching other sellers
Seller

Ask a Question
Report a violation
Description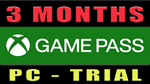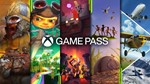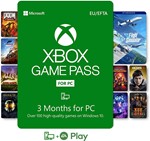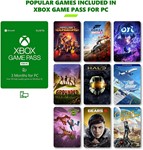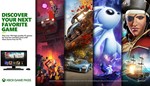 ✅ After purchase, you get a key for an Xbox Game Pass 3 months subscription for PC ✅
✅ You receive it automatically as XXXXX-XXXXX-XXXXX-XXXXX-XXXXX (
https://prnt.sc/r8i5ii
), do not forget to press the button (
https://prnt.sc/r8iarg
) for activation instructions.
✅ We do not issue a card for activation. You can buy it from other sellers on this site or any other.
📌 This subscription "Xbox Game Pass 3 months" is suitable ONLY FOR NEW ACCOUNTS OR WITHOUT SUBSCRIPTIONS (do not stack, but you can buy CONVERSION 1 month Ultimate -
https://wmcentre.net/item/3237227
, after activating two codes there will be 4 months of Ultimate subscription)
📌 This is XBOX GAME PASS for PC - THIS IS NOT XBOX GAME PASS for XBOX
📌 You must activate the key before May 25, 2023
📌 ACTIVATION HAPPENS ONLY ON ACCOUNTS OF THE ASIA REGION (ID, IN, MY, PH, SG, TH, VN) [Or through instructions]
📌 To activate the code - you need to link a bank card!
📌 RUSSIAN CARDS ARE NOT SUITABLE!
❗ Warranty - if the key is inoperative, a replacement will be made.
* The warranty is valid for 24 hours from the date of purchase.
* Ready to help you
✅ Description:
1. Name: Xbox Game Pass 3 months for PC
2. Activation: Microsoft
3. Product Type: Activation Code
4. Type of application: Only for new users or who did not have subscriptions
5. Subscription duration: 3 months
6. Region of activation (use) : ID,IN,MY,PH,SG,TH,VN (or via VPN)
7. Gaming platforms: PC
8. Validity: Until May 25, 2023
📌 To activate the code - you need to link a bank card!
📌 After the end of the subscription, you will be charged for its renewal at the current price at that time.
📌 When buying an Xbox Game Pass PC, keep in mind that there is a possibility that you will need to change the country of your account upon activation.
📌 All of our products are tested before being sold. The chances that you will come across an invalid or used product is extremely small.
✅ Link for activation via the website:
https://redeem.microsoft.com/
🔥 Xbox Game Pass PC Key is valid for the following countries: ID,IN,MY,PH,SG,TH,VN.
❗ Xbox Game Pass is a subscription service from Microsoft for use with Windows 10. Provides users access to a catalog of games from a range of publishers for one monthly subscription price. The service was launched on June 1, 2017.

💼 Xbox Game Pass Features:
- Unlimited access to over 100 high quality PC games
- New games are added all the time
- Xbox Game Studios when they premiere
- Exclusive discounts and offers for members

Buying a key "Xbox Game Pass 3 months" for PC from us is one of your best decisions.
it works for me even after month date of purchase
The key cannot be activated, the seller himself does not know which country it belongs to
A card purchased from the same seller is also not clear, not the name of the owner, not the address, it is unrealistic to bind it to anything
Product works, seller responded instantly to a support request.
There were serious problems, the seller was very helpful, the problem was solved.