WINDSCRIBE VPN | 1 YEAR: 30 GB/MONTH FULL ACCESS 🔥
Replenishment date:
This item has run out. Check back later or try searching other sellers
Seller

Ask a Question
Report a violation
Seller discounts
for all goods
The goods are given a discount for regular customers.
If the total amount of purchases from the DPAKULA seller is more than:
Description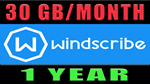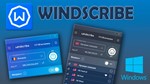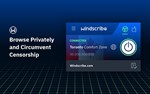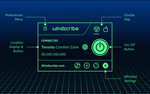 📌 ATTENTION! THIS IS NOT A PRO/Premium version, this is a free version of Windscribe with 30 GB of data per month (10 GB for regular registration)
📌 TRAFFIC IS LIMITED - 30 GB per MONTH for 1 year (30x12=360 GB in total).
✅ Account Login:
https://windscribe.net/login
>>> You will receive your Windscribe VPN account as LOGIN:PASSWORD <<
❗ Warranty - if the account is inoperable, a replacement will be made.
* The warranty is valid for 2 months from the date of purchase.
* Ready to help you
🔥 Leave a GOOD FEEDBACK after purchase. It is very important for me! Thank you.
📌 You have access to mail! You can put your mail.
📌 You can change all the data from your account! (Mail, password)
📌 All accounts are registered by me personally, so they are all working.
📌 There is no refund, only a replacement if the account is inoperable.
📦 By buying this product you get:

✅ Windscribe VPN account with 30 GB monthly traffic for a year
✅ Account subscription - 1 year (maybe from 11 to 12 months, I try to update as much as possible)
✅ List of available countries : United States, Canada, UK, France, Germany, Netherlands, Norway, Switzerland, Romania, Turkey, Hong Kong
✅ Instant delivery of goods to your mail
✅ View data - Login:Password:Email
✅ Operational support in case of any questions
✅ Warranty for purchased goods
* In case of problems, please contact the seller in personal correspondence.
❗ Windscribe VPN is a Canadian-based VPN service that promises its customers a private browsing experience.

💼 Windscribe VPN PRO (Premium) Key Features:
- Lack of records
- Double encryption
- Automatic shutdown button Kill Switch
- Super secure encryption (OpenVPN, IKEv2, WireGuard, Stealth, Websocket Stealth, SOCKS5 protocols)
- Strong encryption (AES-256 with SHA512 authentication and 4096-bit RSA key)
- Unlimited speed
- Many servers (updated weekly)

Buying a Windscribe VPN 30 GB/MONTHLY FOR 1 YEAR account from us is one of your best decisions.