Windows 10 PRO + 2019 OFFICE PRO PLUS KEY✅ + RandomGift🔥
Replenishment date: 05.02.2023
Manual issue of goods
You may need to contact the seller to receive the item. Carefully read the terms of delivery specified in the product description
Seller

Ask a Question
Report a violation
Description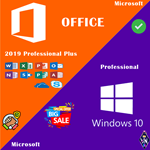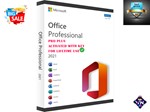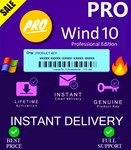 Microsoft Office 2019 professional plus, in addition to classic features, also:
⭐ Simplify reading in Word with adjustable column width, changeable page color, reading function, and even better performance with sound effects in the form of beeps;
⭐ Add scalable vector graphics to your documents and presentations, available from a large library of symbols or imported from other sources, to enhance their quality and add visual dimension to your work. SVG objects allow you to scale and recolor them without worrying about poor image quality.
⭐ Translate using the translator feature available in the Office applications, with which you can highlight parts of the text and get the translation without leaving the program.
⭐ LaTeX syntax equations can now be implemented in Office documents to better represent some mathematical and scientific problems.
⭐ The morph function provides more flexibility in creating animations, transitions and object movements in PowerPoint.
⭐ Adding 3D models to your presentation gives your work a more advanced look and can have a greater impact on those who see it.
⭐ PowerPoint slides can be controlled with external devices that are wirelessly connected to your PC, such as Surface Pen 4 and Wacom Bamboo Inc, and other digital pens that are compatible with Windows 10.
⭐ In addition to many other Excel functions, you can now use TEXTJOIN, CONCAT and IFS to get more tools for creating tables. The addition of new chart types also gives you the ability to simplify your work and create clear and elegant documents.
⭐ Draw function allows you to create interesting drawings in documents, write by hand and highlight them, and draw specific shapes using the draw in shape function. You can draw not only with touch devices, but also with your mouse, digital pen, or finger.
ℹ️ One important note: OneNote has been removed from the package because it has become the default application for Windows 10. However, OneNote 2016 can still be installed separately using the Office installer.
Windows 10 Pro:
Instructions for installing the official Windows 10 Pro:
Instructions for downloading the distribution from the manufacturer's server:
1. First you need to go to the official website
https://www.microsoft.com/ru-ru/software-download/windows10
and click the Download Tool Now button.
2. Now we launch the downloaded program and agree with all the rules and press until the moment when we are asked to select "What do you want to do?" Then you need to select "Create installation media".
3. Install the system on your computer from the provided media.
If the original distribution of Windows 10 Pro is already installed, just activate it with the purchased activation key.
"YOU WILL RECEIVE THE GOODS WITHIN 1-24 HOURS. Usually instantly "
❗ IF A PROBLEM ARISES AFTER THE PURCHASE OF THE GOODS ❗:
⭐️ Do not write negative reviews, but first write about the problem to the seller!
⭐️ Open the tab: "Correspondence", describe the problem and we will definitely help you.
⭐️ The seller will answer your message within 1-24 hours
Customer satisfaction is your happiness.
Additional Information
Office 2019 Pro Plus:
✅ To install an office and activate a license,
just follow the official link
https://setup.office.com
,
log in and follow the instructions.
Windows 10 Pro: ⛔Note⛔
Only Windows Pro can be activated, Windows Home will not be activated.
To upgrade from Home to Pro, contact your dealer, they will consult you and help you with upgrading to Pro.
License type - RETAIL
Language - any
Bit depth - 32/64
Activation region - the key can be activated in any country
You buy an activation key for the Operating System Windows 10 Professional (32/64). License for 1
+ RANDOM GIFT🔥
Instead of a key, the answer "Hey" came from the seller. It is clear that nothing else is worth waiting for. The review rules are so cunning that with a bad rating, a bad comment can only be left after 60 days. During this time, you can mow a lot of suckers. In general, a small price for science.
everything is fine, the blocked key was quickly replaced. 5 points.