Vladimir Uspensky. Unknown Soldiers. 1-4.
Replenishment date: 21.02.2011
Content: text (30 symbols)
️Automatic issue of goods ✔️
Seller

Ask a Question
Report a violation
Description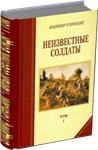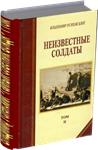 The events of the first months of the Great Patriotic War will never be erased in the memory of our people

war, the unprecedented feats of soldiers and commanders who, with their courage and

persistence bled the German fascist troops in border battles, in battles near Smolensk, Kiev and

Leningrad, and then inflicted a defeat on the Nazis near Moscow. He talks about these people and these events in

his book V. Uspensky. "Unknown Soldiers" is an epic novel covering a large circle of heroes, from

collective farmers to generals, from Red Army men to scientists. These are people of different characters. Add up differently

their fate during the war. The author shows how, in the difficult days of retreat, the foundation of the future

victories, how the German troops were ground in battles, how the forces that stopped

enemy and drove him west. Among the heroes of the book are Zhukov, Vasilevsky, and other famous

historical figures. But with all this "Unknown Soldiers" is, first of all, a novel about the people,

accomplished a great feat.
At one time, Mikhail Sholokhov called this novel the best work about the war. In the 80s it was republished in

within the framework of the Top Secret project, the head of the project is the famous writer Yulian Semenov
Additional Information
IMPORTANT:
ALL RIGHTS FOR THE PUBLICATION AND DISTRIBUTION OF THE BOOK OF V. USPENSKY "UNKNOWN SOLDIERS" IN ELECTRONIC FORM
BELONGS TO THE PRAVDA PUBLISHING HOUSE AND ITS PARTNER "KRYMSKY BRIDGE".
ANY OTHER SUBJECTS WHICH DO NOT HAVE AN APPROPRIATE AGREEMENT WITH THE PRAVDA PUBLISHING HOUSE ARE
BY VIOLATORS OF THE LEGISLATION OF THE RUSSIAN FEDERATION.