StarCraft II - Guest Pass Key CD-Key (RUS)
Replenishment date: 23.12.2015
Content: StarCraft II Guest Pass23122015_0018.jpg (68.8 KB)
️Automatic issue of goods ✔️
Seller

Ask a Question
Report a violation
Description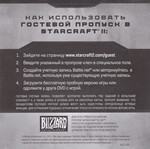 This key allows you to play StarCraft 2: Wings of Liberty for free for 7 hours or 14 days after activating the key - the action ends after any of these periods.
The starter version gives access to the first five missions of the Terran campaign, and the game against the computer. In addition, players with Starter Editions will be able to earn achievements in Starter Edition missions and use many of the Map Editor features.

Owners of the full StarCraft II game can join the StarCraft owners in Play on the StarCraft Maps. Such cards are marked with a special symbol when choosing a card. Only Terrans can be played in single-player mode and in Custom Play. You will not be able to add AI above the Apprentice difficulty level when creating your game.

Starter players cannot:

Use group search.
Play offline.
Communicate in public communication channels.
Join and create clans.
Publish maps to Arcade.
Additional Information
1. Go to the page
http://www.starcraft2.com/guest
2. Enter the key shown in the picture in the special field.
3. Create a Battle.net account or log in to Battle.net using an existing account
4. Download the free trial version of the game
03.02.2017
Very bad seller, don't buy anything. Bought 3 guest keys, all non-working, they said they'd screwed in at 21:00, nothing was returned.
Replacement item provided
Everything works, thank you.