STAR WARS Jedi Fallen Order Deluxe Edition XBOX ONE
Replenishment date: 15.11.2019
Content: text (54 characters)
️Automatic issue of goods ✔️
Seller

Ask a Question
Report a violation
Seller discounts
for all goods
The goods are given a discount for regular customers.
If the total amount of purchases from the seller brain777100 is more than:
Description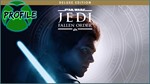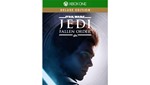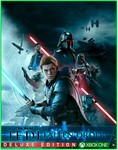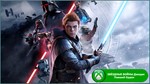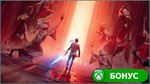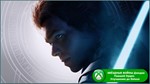 After payment you will receive a licensed game (username and password) after downloading the game, you can freely play and run the game from your profile. Lifetime warranty. General profile.
Unique offer 30% discount for positive feedback on every second purchase on XBOX ONE
How to play from a purchased profile
https://youtu.be/fxqWbXPAWa0
Installing the game on the XBOX ONE console:
1) Go to the purchased profile, click "Login"
2) Click "Add new user", enter the purchased data (username and password)
3) If the code asks for, click on and write to us
4) Login and security parameters - set "no restrictions"
5) Go to "My games and applications"
6) Scroll to the right, find the purchased game and install it.
7) Play from your profile (turn on the console (auto login from your profile) press to the left, enter your account with the purchased game, then switch to your own and start the game
8) The purchased profile is not deleted, enjoy the game)
ATTENTION!:
1) You can not make an account home
2) You cannot change the data and transfer it to third parties
3) Additional mail is not provided
4) Requires a permanent internet connection
5) General profile (you buy the game and the ability to play from your main profile, the profile itself is not for sale)
How to play (text description):
1) After receiving data from the account, enter the purchased account with the game and immediately switch to your main account. We enter the game. If you see the inscription "The entrance is made somewhere else", you can continue to play from 7 minutes to 1 hour (always in different ways). After that, a window will appear that you will need to re-enter the account from which the game was purchased. We do not close this window, but again enter the account with the purchased game using the central Guide button, then switch to our own and continue playing from the same place where we left off.
2) After receiving data from the account, enter the purchased account with the game, then switch to your own and start the game. Disconnect from the Internet (settings - network - network parameters - disconnect from the network) and play. After connecting to the network, achievements earned in Offline will open.
The account is being sold publicly. If during the game you are sometimes "thrown out" of the gameplay, try to enter the game later. Any claims in this case will not be accepted
I'm downloading the game) I hope it won't disappoint. Thank you seller
Everything works, thank you
Everything you describe, if you find out what was wrong with your account, then everything is visible at once.
Everything is super) everything works) the seller quickly answered when the code was needed
everything is fine. Thank you.