SPOTIFY PREMIUM TO YOUR ACCOUNT 🎁 1 MONTH WARRANTY 🔥
Replenishment date:
This item has run out. Check back later or try searching other sellers
Seller

Ask a Question
Report a violation
Description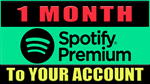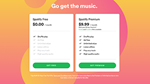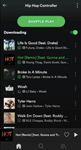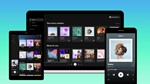 ✅ You buy Spotify Premium (Trial) on YOUR ACCOUNT (family invitation) for 1 month <<
✅ After purchase, you will receive it automatically in the form
https://www.spotify.com/family/join/invite/XXXXXXXXXXXX
(
https://prnt.sc/r8i5ii
)
PS On the invite may not be enough 1-5 days up to 1 month, because accounts are registered in advance.
PS You don't need to link cards, everything is already activated for you,
🔥 You will receive activation instructions immediately after purchase along with your home address here -
https://prnt.sc/r8iarg
🔥 Also, in the same instructions, get the VPN of Kazakhstan for free to change the country of your account!
🔥 Guarantee - approximately 1 month (plus or minus 1-5 days)
📌 Before accepting an invite, CHANGE THE COUNTRY OF YOUR ACCOUNT to KZ!
🎁 Account country will be : KZ (Kazakhstan)
🔥 Region/Country of Use: UNLIMITED

✅ It is recommended to turn off geolocation for the Spotify app on your phone if the country specified in the profile does not match the one you are currently in.
📌 There is no refund, only a replacement in case of inoperability! (Which is essentially not possible)
📌 All accounts are registered by me personally, so nothing will happen to the invitations.
📌 It is enough to purchase a product, activate Spotify Premium through our link to your account, and use it.
✅ You can transfer your playlists / music to Spotify from other music streaming services using this site
https://soundiiz.com
🎁 FAQ - Quick Guide

A: How long to wait after purchase?
B: Not at all, you will receive a family invitation link immediately after purchase.

A: How does this all happen?
B: We send you an invite link and address, and you use it to activate Spotify Premium.

A: If I was already on a family plan, can I join yours?
Q: You can only join someone's Premium subscription once every 12 months. Be careful!

A: How long does Spotify Premium last on my account?
B: You get a 1-month warranty, if any problems occur, they will be quickly resolved.

A: Problems with my account (Spotify Premium disappeared), what should I do?
B: Just write to us and we will quickly solve everything with the most favorable solution for both parties.

A: Where can I buy spotify premium?
B: Only with us.
🎁 FAQ Why Spotify Premium Is Better Than Spotify Free
1) Ad-Free Listening: Who wants to go from a Highway to Hell-like rock anthem to an ad for a microwave oven? Advertising makes noise and dilutes the musical experience.
2) Offline listening: Premium users can download up to 3333 songs on three devices (theoretically 9999 songs in total). As long as your device connects to the network once every 30 days, the downloaded songs can be listened to when you do not have an Internet connection.
3) New Releases: Artists may not show their new songs from Spotify Free for up to two weeks.
4) Music quality: Free listeners can only listen to music at 160 kbps. Premium subscribers have access to 320 Kbps, which is almost the same as CD quality.
5) Skip Tracks: On Spotify Premium, you can skip as many songs as you want. On the free tier, you are limited to six passes per hour.
📦 Spotify is one of the most popular services that offers a legal opportunity to listen to tracks from a huge music catalog online. However, users love the service not only for this. The main advantage of Spotify is the music selection algorithms, which almost perfectly adapt to the tastes of the listeners.

Buying Spotify Premium to your account with us is one of your best decisions.
Bought second time. thanks
I sent money, received a link, activated my account, there were no problems other than VPN)
Everything was activated instantly and without problems. Respect to the seller.
Everything is super, I connected a subscription to my account so it's even cheaper. Thanks seller!