🔥 PUBG: Premium Supply Pack 7 + 8 Amazon Prime Gaming
Replenishment date: 11.11.2022
Content: text (36 symbols)
Seller

Ask a Question
Report a violation
Description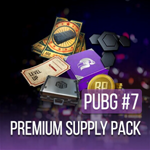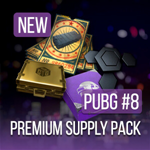 ✔️ After payment you get an AMAZON account with PUBG: Premium Supply Pack 7 + 8! The account has no owner! Account works 3-5 days! However, the WARRANTY on the account is valid for 24 hours! All claims are considered only if there is a video recording of the moment of purchase and checking the performance of the account. Any other videos and arguments WILL NOT be accepted unless the point above is followed!
🔹 You will be redirected to a page with a login password from Amazon(Prime Gaming) after payment + an email.
🔸 The account will be in the form LOGIN : PASSWORD, or LOGIN (the password will be the same as LOGIN)
🔹 The necessary loot must be activated IMMEDIATELY!
🔸 Account guarantee - 24 hours
No refunds
🔸 If you have any difficulties, questions - write to the seller (private messages on the site, telegram, discord, skype)
🔹 To use an Amazon (Prime Gaming) account in China, you need a VPN (change country to Europe)
🔸 If you do not know how to use, do not want to use VPN - the seller is not responsible (no refund)
🔹 All our accounts are checked before sale. The chance that you will come across an invalid account is extremely small, or used game keys are excluded! You are the first and only owner of the account. Customer fraud has increased, so we ask all of our customers to record videos from the moment of purchase until the moment we activate our product. The video must not contain any cuts, cuts, or interruptions. Video is your GUARANTEES!
PUBG: Premium Supply Pack 7 contains:
🔹 Silver G-Coin Box - 300 G-Coins
🔸 Polymers (polymers) - 30 pieces
🔹 Contraband coupons - 10 pieces
🔸 2 levels of Battle Pass (2 survivor pass level up coupons)
🔹 15 000 BP
PUBG: Premium Supply Pack 8 contains:
🔹 Golden G-Coin Box - 500 G-Coins
🔸 Polymers (polymers) - 30 pieces
🔹 Contraband coupons - 10 pieces
Additional Information
⚠️ If you are from an Asian country (China), you need VPN (Europe or USA) to log in and use amazon account (prime gaming)
如果您来自亚洲国家(中国)以进入和使用您的亚马逊帐户(主要游戏),您需要一个 vpn(㬧)
Connection instructions:
1) Follow the link
https://gaming.amazon.com/
2) In the upper right corner, click "Sign in" and enter the purchased data.
3) Choose the game you need and click on Claim.
4) Click on the blue "Claim now" button.
5) Then click on the "Link accounts to use loot" button and link the accounts.
6) Re-enter the game.