Overwatch 2 2600 League Tokens XBOX/Battle.net
Replenishment date: 21.05.2022
Manual issue of goods
You may need to contact the seller to receive the item. Carefully read the terms of delivery specified in the product description
Seller

Ask a Question
Report a violation
Description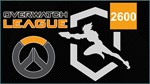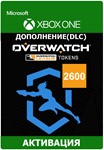 You buy a service to receive Overwatch League - 2600 League Tokens for playing Overwatch on the XBOX ONE console. To activate, you will need to provide the seller with your Microsoft account login information.

After payment, you will receive a UNIQUE CODE, which must be reported to the seller in the "Correspondence with the seller" section or using any contact information of the seller.
Average currency activation time: from 15 minutes to 150 minutes, maximum up to 24 hours, it all depends on the queue, (on average within an hour) if you made a purchase at night, we will activate it for you the next day!