Orcs Must Die 2 (steam key)
Replenishment date: 15.03.2023
Manual issue of goods
You may need to contact the seller to receive the item. Carefully read the terms of delivery specified in the product description
Seller

Ask a Question
Report a violation
Description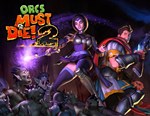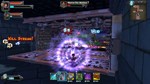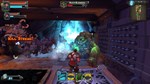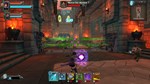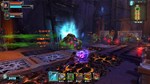 After the purchase, you will receive a KEY to activate the specified software product.
The purchase ID is 16 characters, use it to get the product code on the merchant site.
Release date: July 30, 2012
Age rating: 18+
Developer: Robot Entertainment
Publisher: Robot Entertainment, Inc.
Localization: Russian (interface and voice acting)
Activation System: Steam
Region:CIS, Russia
Description:
You threw them in different directions, burned them with fire, cut them into slices ... The bill went into the thousands - but now you need to redouble your efforts! In the second part of AIAS Strategy Game 2011 from Robot Entertainment, you will have to cut through the endless hordes of orcs with a friend! Dive into the thick of the battle again, playing as a powerful battle mage or a cunning sorceress. Defend new fortresses and dwarven mines, exterminate thousands of orcs and other monsters - at your disposal a wide variety of weapons, spells, guards, traps and amulets. Go through a new campaign with a friend in co-op - or fight for survival in endless mode! Unlock access to new and old defenses, improve them and put them to work - let the hordes of orcs grind into juicy green stuffing!
Key features: Co-op play! "You have two heroes at your disposal. The battle mage fearlessly rushes towards danger, while the sorceress prefers to stay away from enemies, holding them back with the help of witchcraft spells and subordinating them to her will.
Campaign plot. - The story will continue from where the story ended at the end of the first part. You can go through a new story campaign either alone or together in a co-op mode!
New endless game mode. - Playing alone or with a friend, test your strength, reflecting one after another the endless attacks of formidable opponents.
Classic mode. - Steam users who purchase the original Orcs Must Die! will automatically have access to the 10 levels of the first part of the co-op game, where they can fight new enemies!
More than 20 dangerous opponents. - Fight back against new terrible creatures, including earth elementals, trolls and bats. And along with them, all your old friends from the original Orcs Must Die will come to visit!
Over 50 types of weapons, traps and guards. - You can choose from a huge arsenal of old and new defenses, which includes a brand new set of magical amulets.
Extensive system of improvements. - Over 255 trap and weapon upgrades are available for you to customize your arsenal to suit your playstyle.
Replay value. - With a variety of game modes, Nightmare difficulty level and rating system, you will want to return to the game again and again.
Scoring and leaderboard. - Compete with your friends, strive to take the top line on the leaderboards in both single and co-op!