NEW WOT ✌ 2in1 | 37+36 SWATT+SHOOTER 🔵 NOT FOR RU
Replenishment date: 04.10.2022
Content: text (47 symbols)
Seller

Ask a Question
Report a violation
Seller discounts
for all goods
The goods are given a discount for regular customers.
If the total amount of purchases from the 1GameStore seller is more than:
Description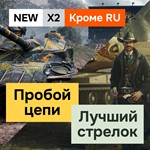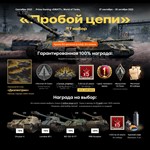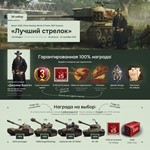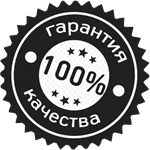 ⚠️IMPORTANT!!! KITS ARE AVAILABLE FOR ALL REGIONS EXCEPT RU (Lesta).
⚠️ ONCE AGAIN! NOW ALL NEW SETS FOR ACCOUNTS OF THE RU REGION IS IMPOSSIBLE TO GET!
💳 FOR PAYMENT BY CARD or KIWI choose Enot.io
🔥 Instant delivery! 100% Satisfaction Guarantee.
💰 Discount for regular customers!
☎ Support in case of problems or questions.
✅ 2 Packs World of Tanks #37 + #36 "SWATT" and "SHOOTER"
✅ Immediately after payment you will receive access data. And also a copy will be sent to you by mail.
✅ #36 is available for all regions, #37 is available for all regions EXCEPT RU region.
📌 ATTENTION! Bonuses for other games and Prime are not guaranteed. You need to receive rewards immediately, 6 hours guarantee.
✌ From set # 37 you will receive:
1. Premium tanks for rent to choose from: Chrysler K | Lorraine 40t | WZ-120-1GFT | M56 Scorpion |
2. 1 day Tank Premium Account
3. Unique 2D "Dielectric" style
4. Combat missions for x5 experience 5pcs (for a victory) and 10 as a reward for completed BRs
5. New N-Cave Graduate Medal
6. Special large decal "N-Cave Logo" [3 pcs.]
7. Special large decal "Hounds, go!" [3 pcs.]
8. Strong coffee (France) 5 pcs.
✌ From set # 36 you will receive:
1. Premium tanks for rent to choose from: 50TP prototype | T26E4 Super Pershing | Mk. 5/1 RAAC | IS-2M |
2. Unique commander "Johnny Bingo" forever (with three learned perks)
3. 3 days of Tank Premium Account
4. Combat missions for x5 experience 5pcs (for a victory) and 10 as a reward for completed BRs
5. New medal "Wild West"
6. Special large decal "Pursuit" [3 pcs.]
7. Special large decal "You can't beat me!" [3 pcs.]
8. Coca-Cola 5 boxes
9. 5 BR for x5 XP [for a win] + 10 more for the package BR.
INSTRUCTIONS:
⚠️Attention !!! The "Claim" button is already pressed, you just need to link Amazon to your tank account and re-enter the game. Nothing extra!
Login: Password [separated by colon]
1.Log in to your personal account
http://eu.wargaming.net/personal
2.Click on the Amazon button (not to be confused with Twitch), enter the purchased data and click "Sign in"
If you are asked to connect a phone number, refuse by clicking "Not now"
3.In the window that appears, click "Allow"
Everyone, I congratulate you! You have enabled this package. Be sure to re-enter the game and check for loot.
Usually comes immediately, but sometimes there are delays. After receiving the kits, unbind Amazon. Rewards will remain.
Also go to the Warehouse, select SUPPLY FROM THE REAR (lower left is the image of a parachute) and pick up additional gifts.
⚠️ You can get this set only once for one game account and only for the PC version of the game. Will not work on other platforms.

💙 After successfully receiving bonuses, please do not forget to leave a positive review, it is very important for us!
Thank you so much! Contact us again, we will be very glad to see you. © 2022 1GameStore

💬 We kindly ask you not to leave negative feedback before contacting the seller, in most cases your problem will be resolved as soon as the seller reads your message. Thank you for understanding.
Additional Information
#Twitch #TwitchPrime #PrimeGaming # HERE # Tanks # TwitchPrimeVTanks # BuyTwitchPrimeHere
#AmazonPrime #PrimeGaming #TwitchPrime #Twitch #WOT #WorldofTanks
📦 Our other products:
https://wmcentre.net/seller/1gamestore-997159
Everything is super. The seller responds quickly if something went wrong.
Great seller!
Ps Instantly helped to solve the problem
Everything has come, I myself am a bit stupid
Thank you everything is activated!
Everything is fine, the seller is always in touch and ready to help, I recommend
Everything is just perfect, fast, high quality, I recommend.
Everything is super! the login and password came right away, in the tanks the boxes also came right away, though I couldn't go to Amazon without VPN, but this is no longer a seller's problem
Everything is as described.