module for accepting bets on sports competitions, casinos
Replenishment date: 05.02.2018
Content: goods.zip (392 B)
️Automatic issue of goods ✔️
Seller

Ask a Question
Report a violation
Description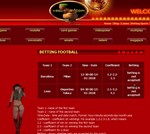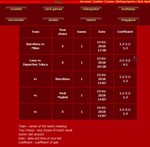 Module for accepting bets on sports competitions for casinos. For those who already have a casino, we provide a module for accepting bets on sports competitions, football, basketball and so on. The module is adapted for casinos like Masvet, Goldsvet.
1.when betting by players, there is an automatic deduction from the player's account
2. there is a possibility of statistics of players' bets
3. in the admin panel, it is possible to edit: teams, time and date of the start of the match, change the coefficient of acceptance of bets on the principle of 1-victory of the first team, 2- victory of the second team, x-draw result of the match outcome.
The PHP code is open, there is a complete description of the installation. If you cannot install the module, then we will help.
demo you can see the link
http://casinowel.com/football.php
login: test
password: test
Additional Information
If you have questions about the module, ask.