MICROSOFT 365 FOR THE FAMILY 💯 WARRANTY
Replenishment date:
This item has run out. Check back later or try searching other sellers
Seller

Ask a Question
Report a violation
Seller discounts
for all goods
The goods are given a discount for regular customers.
If the total amount of purchases from the seller Liakh Y. is more than:
Description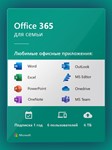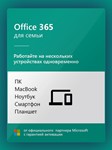 ⚡️⚡️⚡️⚡️BEST OFFER UNDER SANCTIONS⚡️⚡️⚡️⚡️
❗️TO ACTIVATE - USE VPN
❗️AFTER ACTIVATION OF THE KEY, THE SUBSCRIPTION FULLY FUNCTIONS IN THE CIS AND OTHER COUNTRIES.
❗️USE FREE VPN TO ACTIVATE
https://seed4.me/pages/download?os=windows
❗️IF YOU HAVE ANY QUESTIONS REGARDING ACTIVATION OR USE OF VPN - PLEASE DM US, TELEGRAM, SKYPE AND WE WILL BE SURE TO HELP.
❗️❗️❗️ IF YOU HAVE AN ACTIVE SUBSCRIPTION OF ANOTHER REGION, USE THE KEY THE NEXT DAY AFTER ITS END.
✅After activating the license, you get the opportunity to share the subscription with 5 users. Just go to your Microsoft account and send them invitations.
✅You buy a license KEY, which you activate yourself and link it to your account (account).
✅The purchased KEY will be instantly sent to your mail immediately after payment and will be displayed on your screen of your device.
✅Microsoft 365 for Family - subscription for 6 users up to 5 devices per user for a period of 12 months.
🟢 for 1 year
🟢 for 6 users - 5 devices each/PC/MAC
🟢 1 TB One Drive per user
🟢 Windows or Mac / Android or iOS
❗️❗️❗️⚡️⚡️⚡️Your feedback is an incentive to improve the quality of service! Thank you for your purchase!
I couldn't figure it out myself. I wrote to Skype support. They immediately responded and helped. Thank you
After the purchase, the seller offered to purchase Microsoft 365 Personal 34 months - Invitation, everything works. And I hope it will work exactly 34 months. You can take

Everything went perfectly. The key is really official, came up. Tied to an account. True, you need to tinker with activation from Malaysia, but these are already trifles. And at the end, a nice bonus - the seller gave a license key for Windows 11.