KASPERSKY ANTI-VIRUS 2023 2PC / 1 YEAR WARRANTY
Replenishment date:
This item has run out. Check back later or try searching other sellers
Seller

Ask a Question
Report a violation
Seller discounts
for all goods
The goods are given a discount for regular customers.
If the total amount of purchases from the Gold-Nm_Reseller seller is more than:
Description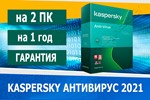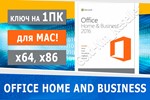 You will INSTANTLY receive a LICENSE KEY after paying for the order. License validity from 345 days; lifetime warranty
Kaspersky Anti-Virus - licenses for 2 PCs
Attention! For activation only on the territory of the Russian Federation.
Attention! In the event of a discrepancy between the product being renewed and the previously purchased one or in the absence of an activation code for the previously purchased software, the license term will be limited to 8 months.
To download the product distribution kit, follow the link:
http://www.kaspersky.ru/anti-virus-downloads
Technical support can be obtained around the clock by phone:
8-800-700-88-11 (free within Russia)
Knowledge base: support.kaspersky.com
What you need to know when contacting support:
http://support.kaspersky.ru/support/details
Kaspersky Anti-Virus is a solution for basic computer protection against the main types of Internet threats. Antivirus protection against malware, high speed, convenient protection management. Anti-virus scanning of files, programs and websites, anti-phishing and protection against ransomware.
05.09.2023
I purchased a Kaspersky key 2 PC/1 year. Downloaded from the link provided in the product description after purchase. On the first PC, it gave out "the number of activations was exceeded", wrote to the seller: he reads messages and does not answer for 2 days. This was the first time I encountered such quality and attitude on this site. I do not recommend the seller
The buyer refused to resolve the problem
Everything is fine, prompt replacement
Great seller! Answers quickly, helped to figure it out! I definitely recommend it !!!
First purchase. Everything is super. Sociable seller. Recommend.
I bought from the seller several times. Everything is working.
I take more than one year, everything is cool