Forex advisor "Harvester" (intraday trading)
Replenishment date: 07.05.2011
Content: harvester_v2.1.zip (17.61 KB)
️Automatic issue of goods ✔️
Seller

Ask a Question
Report a violation
Description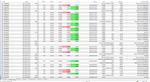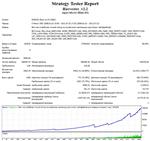 The HARVESTER trading expert presented to your attention is an author's development and is intended for trading mainly on trending currency pairs, such as EURUSD and is a set of trading actions taking into account the aggressive volatility of the market. The Expert Advisor only accompanies its orders placed under a specified magic number, uses the trailing stop of the main order, determines the maximum allowable trading volume with respect to free funds (money management), averages transactions, and the built-in module for reinvesting the received profit allows you to gradually increase the trading volume ... The EA trades strictly in the direction of the trend, filtering out flat areas and gaps. The system is completely autonomous and does not require intervention in the trading process. All necessary settings are available in the program properties, its parameters are easily optimized for history.
Works on the M5 period. Does not require optimization, the parameters are set adequately to the volatility of the corresponding currency pair.
Well suited for PAMM accounts.
The advisor has been in constant development since May 2010.
Additional Information:
http://vkontakte.ru/club25864595
Expert monitoring:
http://www.myfxbook.com/ru/members/KIndSizeXXX/harvester/142003
Attention: the default parameters of the advisor are adapted for five-digit quotes (for example: micro account of DC Alpari www.alpari.ru). For individual settings, please contact the seller.
Additional Information
The main advantages of the system at the moment:
1) Trades pending orders, focusing on the method of calculating linear regression when determining the trend, closing orders in case of false movement.
2) Low percentage of drawdown on the deposit.
3) Very fine settings.
4) A large number of transactions in the period.
5) Closing at a loss in case of a wrong entry into the market, a sharp reversal of the price, etc. (loss acceptance).
6) High percentage of profitability (at the moment more than 1000% per annum, depending on the movement in the market).
7) High-quality quotes filters when determining the trend.
All buyers receive free operational information support and advisor updates!
Each subsequent significant update increases the price of the advisor!