FOREX HIGH ACCURACY - DIVERGENCE 5 + SCANNER MT 4
Replenishment date: 03.12.2023
Manual issue of goods
You may need to contact the seller to receive the item. Carefully read the terms of delivery specified in the product description
Seller

Ask a Question
Report a violation
Description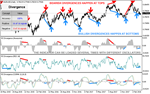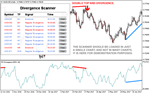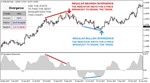 DIVERGENCE TRADING INDICATOR 5.2 + SCANNER MT 4

Divergences, which are difficult to find and rarely seen, are one of the most reliable and profitable trading scenarios. This indicator automatically finds and scans regular and hidden divergences using your favorite oscillator. The win rate is about 90%.

- Finds regular and hidden discrepancies
- Supports many famous oscillators
- Implements trading signals based on breakouts
- Customizable oscillator options
- Customizable colors and sizes
- Filter discrepancies by size in bars
- Implements performance statistics
- Includes multi-character and multi-timeframe scanner
- It implements electronic/sound/visual alerts

To offer a broad view of the market, the indicator can be loaded multiple times on the same chart using different oscillators without interference. The indicator supports the following oscillators:

-RSI
-CCI
- MACD
- OSMA
- Stochastic
- momentum
- Awesome Oscillator
- Accelerator Oscillator
-Williams Percent Range
- Relative Vigor Index

The indicator uses different colors to show different types of divergence:

- Regular bullish divergences are highlighted in blue.
- Regular bearish divergences are colored red.
- Hidden bullish divergences are highlighted in blue.
- Hidden bearish pink divergences

Since divergences can increase quite a bit, especially in the forex market, this indicator implements a turnaround: it waits for a Donchian breakout to confirm the divergence before signaling a trade. The end result is a repaint indicator with a very reliable trading signal.

Delivery to an email address in all countries of the world within 24 hours.
Additional Information
Money Back Guarantee.
If the product does not work, send me a message.
After checking the goods, if everything is confirmed.
I will refund the money within one day.