FALLOUT 76 TO YOUR STEAM ACCOUNT [EN/REG FREE]
Replenishment date: 22.11.2023
Content: text (19 symbols)
️Automatic issue of goods ✔️
Seller

Ask a Question
Report a violation
Seller discounts
for all goods
The goods are given a discount for regular customers.
If the total amount of purchases from the KRUCHOK seller is more than:
Description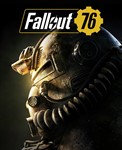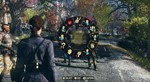 Bethesda licensed account with Fallout 76
❗ A unique opportunity to get a Licensed copy of the game to your STEAM account!
❗ Hurry up to snatch at a bargain price! The number of goods is LIMITED!
❗ Every account without a linked Steam account. Steam connection guaranteed!
❗ Since the account is solely for getting the game on your Steam - you must pick up the game immediately after purchase! I do not give a guarantee for the account, because without the game it is of no value. To play, create a Bethesda account with your details (I do not recommend saving your game progress on a purchased account).
❗ Instructions for transferring the Bethesda.net library to Steam -
https://help.bethesda.net/#ru/answer/55866
❗ Just keep in mind that you will not be able to untie your Steam account after you pick up the game. I advise you to use a non-main steam account if this is a problem for you.
✅ THE SELLER GUARANTEES:

✔️ LICENSE account with access to the game;
✔️ RUSSIAN language in Fallout 76!
✔️ INSTANT delivery of goods to your mail;
✔️ CASHBACK for a positive product review (% of the purchase amount);
✔️ QUALIFIED technical and information support;
✔️ FAST responses to all questions regarding this product;
✔️ PROMO CODE - discount on your next purchase!
📌 INFO:

❗ All accounts without regional restrictions.
❗ There may be other games on your account that you get for free!
❗ You get access to the account. The account is not transferred to you.
❗ Before buying, carefully read all the conditions (see "additional information").
-------------------------------------------------- -
🎮 USE:

❗ Accounts are for personal use only.
⭕ Leave a POSITIVE FEEDBACK after purchase. It is very important for me! Thank you.
❌ Please don't leave negative feedback but contact the seller first!
❗❗❗ ATTENTION:

🚫 Any manipulations with the account (that can lead to loss of access) are strictly prohibited!
🚫 it is forbidden to change account data - login / mail / password;
🚫 it is forbidden to perform any other third-party activity on the account - disable devices, add to favorites, make purchases, link a card, etc.!
🚫 it is forbidden to transfer accounts to third parties!

❗❗❗ VIOLATION OF THE ABOVE RULES WILL RESULT IN LOSS OF ACCESS AND YOU WILL LOSE YOUR WARRANTY! ❗❗❗
🔴 DESCRIPTION:

Fallout 76 is a Massively Multiplayer Action / RPG PC game developed by American studio Bethesda Game Studios and released by Bethesda Softworks for Windows, PlayStation 4 and Xbox One platforms in 2018. The game was announced on May 30, 2018. Fallout 76 takes place in a common post-apocalyptic fictional universe with other games in the Fallout series, but long before they began - 25 years after the nuclear war that destroyed the United States of America. Unlike other games in the series, Fallout 76 is a multiplayer game where players interact with each other in a shared world. Players take on the roles of survivors from the Vault 76, exploring and exploring a world ravaged by nuclear war.
💻 MINIMUM SYSTEM REQUIREMENTS:

• OS: Windows 7/8.1/10 (64-bit versions)
• Processor: Intel Core i5-6600k 3.5 GHz /AMD Ryzen 3 1300X 3.5 GHz or equivalent
• Memory: 8 GB RAM
• Graphics: NVIDIA GTX 780 3GB/AMD Radeon R9 285 2GB or equivalent
• Storage: 60 GB of free disk space
Additional Information
• after payment, an account of the type Login:Password will be instantly sent to the mail specified by the buyer to enter the application / site / client, etc., etc.;
• to leave a review, or see previously made purchases, go to your account on the site
http://oplata.info
;
• I am not responsible for the operation of the service, application, your provider, etc., etc., but I will always try to do my best to help you;
• replacement of goods is possible only if the received account is inoperable (which is very unlikely, since I personally check all accounts before putting them up for sale) at the time of the transaction. In other cases, the seller reserves the right to refuse you;
• if you have a problem with the product, then you can contact the seller using the "CORRESPONDENCE WITH THE SELLER" form (available on the purchase page, near the "PRODUCT FEEDBACK" field) - I will answer you as soon as possible;
• access to mail is not provided;
• the answer to the secret question that is set on the account is not provided;
• the presence of language packs in the game is not checked, usually in most cases there is both Russian and English (if the product name is marked RU / RUSSIAN / RUS - then the presence of the Russian language is guaranteed);
• the performance of free games (s), if they are on the account, is not guaranteed;
• the seller reserves the right to refuse to serve you in case of fraud, threats, blackmail, insults towards the seller in personal correspondence. Attempts to deceive will be recorded and reported to the administration and other sellers;
• in case of additional questions, you can always write to the seller using the "Ask a question" form.
PLEASE DO NOT BUY THE PRODUCT IF YOU DO NOT AGREE TO THE ABOVE TERMS!
I bought 3 accounts, one was not working, we issued a replacement, all good
I bought several accounts, everything connected perfectly
+ first parts of folycha on all accounts
I'll also go and buy an account for a friend!
Everything is super, I transferred it without any problems, read everything carefully for those who have the error that it is not attached. This means your account is already linked to the gazebo. untie it and link it to the purchased account. or create a new steam.
Received the goods, transferred to steam in 5 minutes, everything is easy and simple to use
everything is clear, thanks!
excellent, works + the seller helped
Good quality product. I recommend. Bought two accounts, both valid.
Bought, went, moved. Everything is fine
Initially, the entrance to the ak came with an already tied stim, later I wrote to the seller in the tg and they already threw me an ak without binding
Everything works, everything is great
The seller is good... respect, kiss, hug
I bought a fallout 2020 account in 76, everything is fine, after 2 weeks the account was returned, but the seller replaced it after 15 minutes.
so far everything works, everyone is happy

Everything works, I took the games to my Steam account without any problems. The seller is responsive, immediately suggested what and how to do, I advise you to buy :)
Bought two accounts. There was one not working. The seller immediately replaced. top
I will take more, everything is fine
I am satisfied with the purchase, everything is fine
account is working, I recommend!
I personally recommend the top