EmEditor Professional Lifetime Single license
Replenishment date: 08.12.2022
Content: text (48 symbols)
️Automatic issue of goods ✔️
Seller

Ask a Question
Report a violation
Description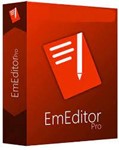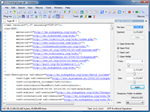 ✅ After purchase, you will receive a license key:

✅ IEmEditor Lifetime is a lifetime license for the popular text editor EmEditor, developed by Emurasoft. The main advantages of this program are high speed, low system requirements and ease of use. The developer offers versions of EmEditor for Windows 64 and 32 bit. The text editor supports macros, unicode, and very large files. The program is used by numerous large corporations, educational institutions and authorities of the European Union and Japan. EmEditor has won over 25 international awards, including the BestApps category of the Shareware Industry Award.


✅ - Added fuzzy matching feature which allows you to search, filter and merge CSV using approximate string matching. This feature includes several options in EmEditor Professional, while in EmEditor Free only the Match Similar Strings option is available.
- Added "Fuzzy Match" button to the "Find" and "Filter" toolbars.
- Added the ability to highlight MIME (Base64) encoded words used in email message headers and show decoded string tooltips when hovering over them. Added the ability to decode them with existing Base 64 to Plain Text (Current Encoding or UTF-8) commands.
- Added "Paste as Symbols", "Paste as Rows", "Paste as Vertical" and "Paste as Cells" commands to the menu displayed when right-clicking on the clipboard history.
- The default main menu has been redesigned to include "Insert", "Transform", "Bookmarks", "Sort" and "Plugins" popup menu items at the top. These changes allow you to access frequently used commands without having to click the menu multiple times. The Diacritics/Marks commands on the Insert menu allow you to type these special characters without having to remember the corresponding keyboard shortcuts.
- Unicode 15.0 is supported for Unicode names, East Asian width, Unicode script, and general category properties.
I downloaded the latest version from the official site and activated it with a key. Everything is working. True, the key is from an open source, if someone knows how to google and would find it himself.