Dr.Web: 1 PC + 1 Android for 1 year
Replenishment date: 14.11.2023
Content: text (35 symbols)
️Automatic issue of goods ✔️
Seller

Ask a Question
Report a violation
Description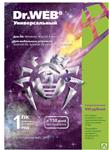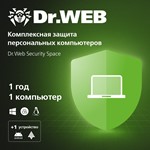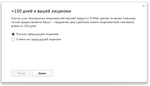 Comprehensive protection for Windows, antivirus for Mac OS X and Linux. Protection for mobile devices - as a gift!
The buyer receives only 1 registration serial number XXXX-XXXX-XXXX-XXXX for 1 year for 1 PC.
The license validity period starts from the moment of registration.
Dr.Web Security Space for 1 PC for 1 year (+150 days upon renewal *) for Windows or antivirus for Mac OS or Linux
+ protection for Android as a gift!
Dr.Web Security Space includes software products for comprehensive protection of Windows, Android and antiviruses for OS X, Linux. If, during the validity of the license, you need to make a transition, for example, from Windows to Mac, you do not have to change the key - you just need to download the required distribution kit for free.
Delivery of goods - instant after payment! The goods are delivered in text form. This is much more convenient than the scanned image. The products you have purchased can always be viewed on
http://www.oplata.info</b>
;
There you can also thank the seller by leaving a positive review of the purchase.
You can download the distribution here:
https://download.geo.drweb.com/pub/drweb/windows/workstation/12.0/drweb-12.0-ss-win.exe
If you have an outdated Windows XP OS, download the distribution here:
https://liane.geo.drweb.com/pub/drweb/windows/workstation/11.5/drweb-11.5-ss-win.exe
During the installation process, get a trial license: the program will work and be updated for free for 1 month.
Thus, before purchasing a license (serial number), you have the opportunity within 30 days to determine how this program meets your needs, suits your computer and meets your expectations. Therefore, the seller DOES NOT provide a refund for the sale of licenses. All transactions are FINAL. From the moment of payment, the amount is non-refundable.
Dr.Web software products and their protection components available as part of this license:
Protection for PC: Dr.Web Security Space, Dr.Web Anti-Virus for Windows, Dr.Web Anti-Virus for macOS, Dr.Web Anti-Virus for Linux.
Mobile device protection: Dr.Web for Android.
If you have a technical problem after purchasing:
- You can contact Doctor Web's technical support service via a toll-free telephone line for residents of all regions of the Russian Federation: 8-800-333-7932.
- Or create a request to technical support
https://support.drweb.com/support_wizard/?lng=ru
- Or create a request through your personal account
https://my.drweb.com/
Additional Information
Download distributions for all operating systems and mobile devices
can be on the page
https://download.drweb.com/?lng=ru
after entering the serial number.
* This product is suitable for both new purchases and license renewals. If you purchase this product to renew your license (the term of the old license must be at least 3 months), specify the key file or serial number for the previous Dr.Web license during registration, and the term of the new license will be increased by 150 days.
Somehow miraculously, the key gave 600 days, I'm in shock)