Call of Duty®: Modern Warfare 2019 on PC (Lease) ®
Replenishment date: 21.11.2023
Content: text (584 characters)
️Automatic issue of goods ✔️
Seller

Report a violation
Seller discounts
for all goods
The goods are given a discount for regular customers.
If the total amount of purchases from the seller RAMZAN is more than:
Description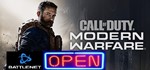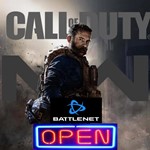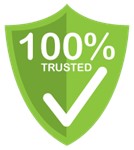 Call of Duty®: Modern Warfare account rental BATTLE NET client | 24 - 48 hours or more. Passage of the plot.

By purchasing a product, you instantly receive Login and Password to my account with the game in (Battle.net).


😉You can play online with your friends without a VPN connection.
😉You can buy this lot for 3-5 or more days, the more days the lower the price.

Region: Any.

Having bought the game, the countdown does not start from the purchase, but from the moment you enter the client. Therefore, after the purchase, you need to specify the time.

I recommend downloading the game in advance, but if anything, it's not a problem, let's wait for the download together)).

Why so cheap? you ask.

Since I haven't had any sales yet, there is a discount for the first customers.

❗❗❗WARNING PROHIBITED❗❗❗

It is forbidden to change any data in the profile (DO NOT TRY EVERYTHING WILL NOT WORK).

It is forbidden to use any cheats and codes, only fair play.

The game requires a permanent internet connection.​

If your PC is too weak and does not run the game, THERE IS NO REFUND!

Read the minimum requirements on the official battle net portal.

After the purchase - if you have any questions, I answer messages after 17:00 Moscow time.​​​​​
Additional Information
Please
If something did not work out or is not clear, do not immediately put a NEGATIVE FEEDBACK
We are all human and everything can be solved. Thanks for understanding!
great product. great customer support by seller. they will help you asap if you encounter issues :)
Everything is super, the seller is 10-10
good service! Very pleasant and responsive seller.!
Good seller! everything is clear and fast. I recommend.
Responsive seller, everything is fast and efficient) I advise)
I received the product immediately after payment, when I logged into my account, I needed to check through the owner's mail, the owner almost immediately sent the code, now I'm downloading the game, definitely + to this seller, my recommendation :)
Very pleasant and responsive seller. Quickly provided an account, helped to deal with the installation. There would be more such people! 10 of 10
I recommend to everyone.
Bought the game, could not launch it for a long time. There were problems in the Windows settings.
The seller politely agreed to extend the time.
I got the account and everything went good, legit recommend+++
Quick, without any problems.
Very good seller he is very kindfull person thanks for your good respect
Fast response, no problem
Everything went great. I can recommend. Buy from Ramzana you will not regret
Quick and helpful! The Best! Everything is ok :)
This seller is awesome. All communication went smoothly & I saved around 57 dollars. perfect.
Everything is fine! The best seller!
Very Fast reply from the seller and gave proper instructions for downloading game.
Everything is fine. After payment, they immediately sent data and a 2FA code to enter. Everything is fine, no expectations and AnyDesks.

Additional info for those greedy like me. Initially, I bought an acc on another site to play, went through half the game, and the acc was banned. I took a lease here, threw the saves and interrogated. Do not be stingy, rent an account and play calmly.
everything is fine, the seller responds quickly
I downloaded the game, the seller instantly activated everything. I'm playing, thanks :)
The seller responded within a few seconds, a great recommendation for cooperation with this member +++
Everything is great, I want more)))

Everything went great, they even threw another day for installation
I recommend, quickly answered and confirmed the second time I take everything from this seller without any problems
I can recommend, the account is working, the seller answered instantly)