🔴🏆BOOST DISCORD SERVER FOR 3 MESAGUARANTEE
Replenishment date: 12.11.2022
Content: text (16 symbols)
Seller

Ask a Question
Report a violation
Description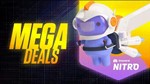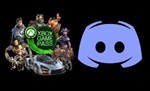 🔴WE DO A BOOST OF YOUR DISCORD SERVER🔴

🔴Before buying, choose the desired number of boosts (MORE QUANTITY=LOWER PRICE)🔴
✅Did not find the required number of boosts in the list - press the combination of buttons by adding

‼️‼️‼️ATTENTION!!!‼️‼️‼️
The price for the 1st boost ‼️BONUS‼️ Especially so that you can try how we work together!
It is recommended to order the required number of boosts at once in 1️⃣ order! The exception is when you want to try before a batch of boosts‼️

🔴IF YOU ORDER SEVERAL ORDERS FOR 1 BOOST FOR 1 SERVER, I WILL INSTALL 1, THE OTHERS - within 3 days. WANT TO SAVE - WAIT LONGER🔴


🔴After the purchase, you will receive a unique code - write it in the buyer's chat along with an invitation link to the server and we will process your application during business hours from 12:00 to 02:00 Moscow time
(in rare cases, it may take up to 12 hours to process your application)
🔴14 days warranty - if you have any problems with the boosts, we will wake up your server again (there are no eternal boosts)
🔴DO NOT DELETE SUBSCRIBE ACCOUNTS from which Boosts were sent, so that the boosts are finally fixed🔴


Levels:
🚀1 lvl - 2 boosts
🚀2 lvl - 7 boosts
🚀3 lvl - 14 boosts


⏰Working hours for providing boosts from 12:00 to 02:00 Moscow time⏰
Wonderful uncle, as always everything is clear and promptly done! I advise!
They fulfilled the order very quickly, reacting in just 5-10 minutes and starting (at 21:00 Moscow time). I was quite pleased with the promptly completed order, especially in such times for our country of sanctions restrictions by Western companies, it seems even many times cheaper in rubles than to buy for dollars from the creator of the discord platform. I recommend buying boosts from this seller.
Thanks for the service)
For a large order, the seller is very professional! Very fast delivery, thank you.
ordered twice, twice the kind uncle did everything well and quickly, be sure to order !!! :-)
Everything works, everything is great
ordered at one in the morning, the boost came at 5:24
i will buy form this seller always .. thank you very much for the fast and helping me
Everything is awesome!! Satisfied
The seller promptly completed the order. I was pleasantly surprised by such high-quality work with the client and the fulfillment of the order. I recommend buying boosts from this seller.
Thanks for the service