Biorhythms (version 1,5)
Replenishment date: 19.05.2009
Content: bio15.exe (285.86 KB)
️Automatic issue of goods ✔️
Seller

Ask a Question
Report a violation
Description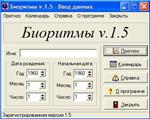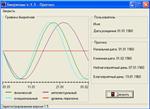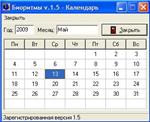 The program "Biorhythms" is intended for plotting biorhythms of a person's physical, emotional and intellectual state, as well as calculating the most favorable and unfavorable days of the month.
Additional Information
Program functions:
1.Plotting graphs of emotional, intellectual and physical condition for a month starting from the starting date;
2.Calculation of the most and least favorable days of the month;
3.Intelligent system of initial data correction;
4.Saving the last initial data;
5.Calendar;
6. Textbook on the program "Biorhythms";
7. The program is completely in Russian.
System Requirements:
Pentium 90 processor or higher;
16 MB. RAM;
1Mb. disk space;
Operating system Windows 95/98 / ME / NT / XP.