💵AUTO STEAM REPLENISHMENT🔥FAST | BEST PRICE
Replenishment date: 05.10.2022
Content: text (16 symbols)
Seller

Ask a Question
Report a violation
Description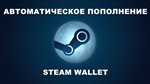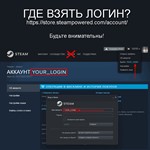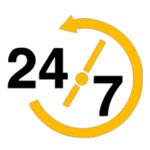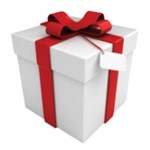 ❗TO SPECIFY THE AMOUNT YOU NEED MANUALLY - CLICK "BUY" AND ENTER THE AMOUNT (MIN. 75 RUB) ❗
🔥 INSTANT STEAM REFUND (24/7/365) after purchase! 🔥
💵 You buy automatic top-up balance for your Steam account
⚡You can pay at any time of the day or night, you DO NOT need to send a unique Digiseller code and wait for the Seller's response!
🔒Payment methods: Bank card (all countries), SBP, YuMoney, QIWI, cryptocurrency
✅ After purchasing the product, the money will be credited to your Steam account INSTANTLY
✅ You DO NOT need to provide a unique code to the Seller, everything is fully automated
✅ Replenishment is available for accounts with currencies: RUB, UAH, KZT, USA, EUR and others
✅ Replenishment of new accounts (just created) is available*
✅ Replenishment of Steam accounts of the territory of L / DPR or Crimea is available from the region "Russia" (see FAQ)
✅ Replenishment is carried out in USD, which are subsequently converted into rubles at the current rate (which is constantly changing), so try to replenish the amount a little more, because. there is no technical possibility to send the exact amount, due to the instability of rates
✅ You can make a test purchase for 100 RUB and check how everything works!
❗ATTENTION❗
Regions China, Turkey, the Netherlands, USA, Great Britain, Poland, Argentina, Denmark do not replenish!
BONUSES:
🎁 We give everyone without exception a PROMO CODE for a 10% discount on our products
🎁 For a positive review, you will receive a gift certificate (CASHBACK - 3%)!
⭐ Instruction:
1️⃣ Specify the required amount of balance
2️⃣ Specify the LOGIN from the Steam account and check the correctness of its spelling
3️⃣ Pay for the goods following the instructions
4️⃣ After a successful payment, the process of replenishing your account will automatically begin (crediting within ~ 15 seconds)
📝FAQ:
Q: What is LOGIN?
A: Login is what you enter when you log in to your Steam account. Please do not confuse Nickname and Login. You can change your nickname at any time, but there is no login, it is set during registration, for the life of your account.
Q: I received a balance more or less than the specified amount, what should I do?
A: For replenishment, the system converts funds into another currency, due to which errors of 1-3% are possible in both directions
Q: How can I top up my L/DPR or Crimea account?
A: Close the client on the PC and turn off the mobile Internet on the smartphone (or switch it to airplane mode), then you need to log in to the Steam website in the browser using a VPN with the RUSSIA location (it is important that it is RUSSIA)
Q: I have a problem, how to contact technical support?
A: Log in here -
http://oplata.info/info/?lang=ru-RU
and write in "Correspondence with the seller"
⚠️ Information \ rules:
• If the region of the account is Russia - rubles will come, if Ukraine - hryvnia (at the rate of VISA / MasterCard), Kazakhstan - tenge (at the rate of Steam), etc.
• If the order is not executed for a long time, most likely there was some problem with the payment gateway, in any case we will execute your order as soon as the problem with the provider is resolved
• An error of 1-3% from the payment in both directions is acceptable, replenish with a small margin to be enough.
• Check login when purchasing (login is what you enter in the Steam login window, it is NOT a nickname and NOT mail)
• In case of successful payment to the login you specified incorrectly - the funds are not returned, the replenishment of the "correct" login is not available, be careful and do not make mistakes, just make "test purchases"
• *If you have an account that has never been replenished (new), then we do not recommend buying a replenishment for a large amount, Steam can change your region to Uzbekistan or Kazakhstan, or change the currency to USD
• Limit on replenishment of Steam account in any way $500 per day. If exceeded, we are not responsible for the delivery of funds.
• If you have any problems, please contact the "Correspondence with the seller", we will try to answer as quickly as possible!

❗ By purchasing a product you automatically agree to the description and terms / rules.
Additional Information
🌎 Change Steam Store Region:
If your Steam store region is different from the selected one:
1. Use any VPN to change the IP to the one you need. List of free VPN for a day:
—
https://hidemyname.org/ru/demo/
—
https://altvpn.com
—
https://speedify.com
—
https://www.vpngate.net
Install and select the desired country.
2. Check your IP here
https://2ip.ru/geoip/
3. Log in to the Steam app on your computer
4. Open the "About account"-> "Steam Guard settings" section and click the "Sign out on all other devices" button
5. Open the "About account" section and click "Change store country". Specify the desired country, when filling out, you can specify any arbitrary data
After 10 seconds, the money was credited to the wallet. Everything is great)