⭐ATOMIC HEART PREMIUM EDITION⭐STEAM
Replenishment date: 20.02.2023
Content: text (432 characters)
️Automatic issue of goods ✔️
Seller

Ask a Question
Report a violation
Seller discounts
for all goods
The goods are given a discount for regular customers.
If the total amount of purchases from a ManGarded seller is greater than:
Description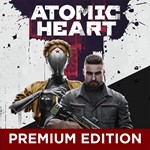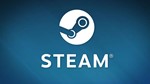 ✅✅✅AVAILABLE TO PLAY IN RUSSIA!✅✅✅
⭐️ Buying this product you get:
🎮1) Steam account with Atomic Heart - Premium Edition (ALL DLC) for offline play.

Pre-order bonuses and what's included in the Premium edition:
☑️ Unique appearance of the ax "Swede";
☑️ Unique appearance of the "Electro" weapon;
☑️ Atomic Pass;
☑️ 4 DLC;
☑️ Unique appearance of the "Glove";
☑️ Unique appearance of "Asterisk";
☑️ Unique AK look;
☑️ Digital artbook with materials about the game.

2)🎮 Detailed instructions for offline activation.

✅IMPORTANT INFORMATION✅
1) You can safely change Steam accounts among themselves, i.e. You don't have to ask for the code every time.
2) TECHNICAL USER SUPPORT - 2 YEARS!
3) Ability to update the game.
4) Activation occurs without third-party programs.
5) Access remains yours forever.
If you have any questions, you can ask them in private messages.
Additional Information
✔️I give you a login and password from my Steam account, you download it from my account (or separately) and then play offline for an unlimited time (detailed activation instructions are attached) and all saves are STORED ON YOUR PC.✔️
Everything started, the activation went without problems.
Very kind seller, the price is good, I'm a real person, so you can take it easy and don't worry !!
Everything is clear. I recommend.
Everything is fast and easy, many thanks to the seller
Very good work, I received everything, the game is swinging, I advise the seller is good
Everything is clear, thank you. Who has a problem when activating through the microsoft store, namely that the game is not found by search, then you need to change the region through the windows settings (for example, to Turkmenistan), restart the PC and follow the instructions.
09.03.2023
Does not respond to messages and did not send an activation code for 7 hours after purchase
Your review will be removed. You were sent a code IMMEDIATELY AFTER YOUR PURCHASE, you saw it at 10:54, and at 17:37 decided to write a review!
Maleh had to sweat but all the GUD game started!
I bought from this seller for the first time, everything went smoothly, I recommend.
Account received, the game works.