Assassin's Creed IV: Black Flag (Uplay key) RU
Replenishment date: 11.06.2023
Content: 20230201_132442.jpg (30.39 KB)
️Automatic issue of goods ✔️
Seller

Ask a Question
Report a violation
Description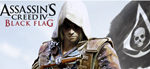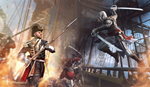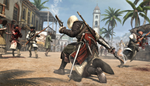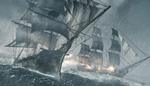 YOU INSTANTLY RECEIVE THE KEY TO THE GAME IMMEDIATELY AFTER PAYMENT!

To activate a key:
• Launch Ubisoft Connect PC.
If you don't already have a Ubisoft account, you'll need to create one.
• Click on the three lines icon in the upper left corner of the app.

Three blue parallel lines arranged horizontally on a black background.
• Select "Activate key".
• Enter the activation code in the corresponding field.
• Select "Activate".
Your content will now be downloaded and installed.

Black Flag turns on its head everything that Assassin's Creed held dear. Our new hero, a pirate named Edward Kenway, takes off his suit from a murdered assassin and with his help gets to an appointment with the Templar Governor. The deception is quickly exposed, but Edward manages to learn about the mysterious Observatory, which hides something completely incredible.
Now the pirate cannot be stopped. In search of the Observatory, he will turn entire archipelagos upside down, thwart the plans of senior government officials, find his own daughter and, without knowing it, help the Abstergo company make a family film about the adventures of sea robbers.
If you surf the seas
In this simple plot lies the key to understanding the new Assassin's Creed: for the first time in the history of the series, its hero was not a noble warrior, not an aristocrat, and not even a professional killer - but a petty swindler, impostor, buffoon and philistine. Edward is a pirate, and he does not care about the centuries-old alignments between the Templars and the Assassins. The range of his interests is extremely small and limited to piastres, ships, alcohol, his wife left in Europe and fights in taverns - yes, such that itch-shoulder-swing-arm.
You will spend at least half of the game swimming. Forget what you saw in Assassin's Creed 3 - that was childhood. From now on, the sea is your home, and the best Black Flag hours will be held there. Here you can dive to the bottom, look for treasures, rob trading schooners and royal frigates, and just about anything, take oars from the punitive fleet. There is everything here that is meant by a capacious cliché "pirate romance": you are at the helm of a ship with black sails, seagulls are screaming around, sharks are cutting the water surface with their fins, and the team once again sings a song about a difficult filibuster share - how can you not start singing along?
The product is distributed by digital distribution and does not contain boxes or discs.