Agents of Mayhem DAY ONE EDITION (Steam key) -- EN
Replenishment date: 14.03.2023
Manual issue of goods
You may need to contact the seller to receive the item. Carefully read the terms of delivery specified in the product description
Seller

Ask a Question
Report a violation
Description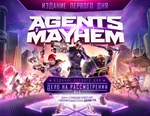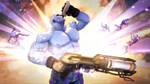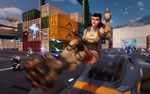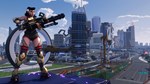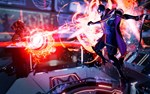 Release date: 18 Aug 2017
Age rating: 18+
Developer: Volition
Publisher: Deep Silver
Localization: Russian subtitles
Activation system: Steam

Composition of the edition:
Game "Agents of Mayhem"
DLC "Case pending"
Johnny Gat Pack DLC
Agents of Mayhem is a single-player action game from the developers of the Saints Row series in which players have to defend their world from evil.

The story of the game originates in Seoul, which, after the horrors of the Devil's Night, lies in ruins left by the victorious march of the gloomy LEGION - an organization of supervillains. People need heroes more than ever, and it is at this difficult time that the Agents of CHAOS appear - a gang of selective and unbalanced outcasts armed with a wide variety of insane weapons. It is for them that players will have to fight to protect the world from evil. Handsome Hollywood is a famous TV star. Cracker is a cheerful big guy with a huge gun. Fortuna is an air pirate who is wanted all over the world. Sweet Romashka is easily controlled with a six-barreled machine gun, guzzles beer and swears dirty. Rama is an immunologist who shoots energy arrows from a futuristic bow. Penalty is a crazy football fan with a temper that can disperse literally any crowd. They work under the watchful eye of Persephone Brimstone, one of the former LEGION commanders, and her assistant Friday. Their common goal is the destruction of the LEGION and its mysterious leader Morningstar.