1$❤️CARD FOR DISCORD NITRO ACTIVATION❤️
Replenishment date: 29.11.2023
Content: text (373 characters)
️Automatic issue of goods ✔️
Seller

Ask a Question
Report a violation
Description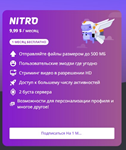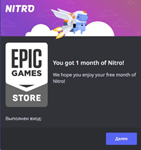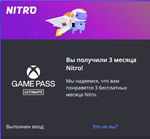 🔥 INSTANT DELIVERY AFTER PAYMENT 🔥
❤️After purchase, you will receive a card with a balance of 1$ necessary to activate promotions in Discord ❤️
🔴IMPORTANT🔴
❗️There is one Discord Nitro activation per card. The map is only suitable for Discord and nothing else❗️
❗️The card is valid for 24 hours, refund is possible only within 24 hours after purchase❗️
❗️You will not be able to get Nitro via the link if you have purchased Nitro on your account within the last 12 months❗️
❗️The card will not work on accounts that have or have been linked to Rambler mail ❗️
❗️Refunds due to an erroneous purchase of the card or an attempt to use it elsewhere are not carried out❗️

Fuck it all, it's not the first time I've taken it, it's ok
worked as described. +rep
Everything works, the seller quickly issued a replacement product. I definitely RECOMMEND
Excellent, responded quickly, the best!
Very good. I didn't have time to enter the basic data and made a replacement. The code was sent immediately. Very satisfied. Before that I bought it from another seller and it didn't work.
Everything went well and quickly, I recommend it.
Everything was done quickly, good seller
The seller is the best, sent the code, I definitely advise.
Good seller, helped with problems
I have no complaints! They responded quickly and replaced the non-working card. I advise!
everything worked well the first time)